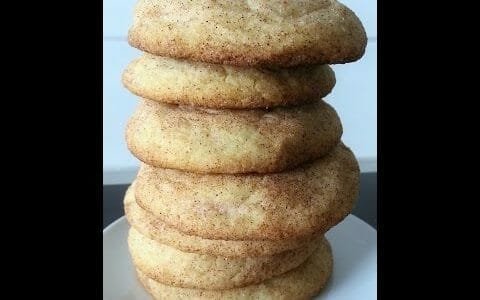 Many snickerdoodle recipes call for "Cream of Tartar," but not this one! You don't need it because we've perfected this recipe so your snickerdoodles come out with a soft center and wonderfully golden edges.
2 3/4 cups all-purpose flour
2 teaspoons baking powder
1 teaspoon salt
2 sticks unsalted butter, room temperature
1 1/2 cups sugar
2 large eggs
1 teaspoon vanilla
Additional ingredients:
2 Tablespoons sugar
2 teaspoons cinnamon
Whisk together flour, baking powder and salt. Set aside.
Cream butter and sugar, using an electric mixer until fluffy, about 2-3 minutes. Scrape the bowl once during mixing.
Mix in eggs and vanilla. Add flour mixture and mix until just combined. Scrape bowl and mix again.
Stir together cinnamon and sugar in a small bowl.
Shape dough into balls; roll in cinnamon sugar. Space 3 inches apart on baking sheets.
Bake at 350 degrees until edges are golden brown and center looks slightly wet, about 10-12 minutes for smaller cookies, 12-15 minutes for larger cookies.
Let cookies sit on cookie sheet for 3-5 minutes then transfer to wire cooling racks.
Facebook: https://www.facebook.com/creativelybambi/
Twitter: @CreativelyBambi
Instagram: CreativelyBambi
Pinterest: CreativelyBambi
Website: www.creativelybambi.com
Show open music by: Capt. Kirk
Hat the Jazz by Twin Musicom is licensed under a Creative Commons Attribution license (https://creativecommons.org/licenses/by/4.0/)
Source: http://www.twinmusicom.org/song/289/hat-the-jazz
Artist: http://www.twinmusicom.org
Creatively Bambi is taped at The Shay apartment homes located in the Northwest section of Washington, DC. For more information, go to www.theshay.com
The show is filmed and edited by Dynamic Reel Productions. For more information, go to www.dynamicreel.com
For business inquiries:
info@savannahcupcake.com
PO Box 73508
Washington, DC 20056
Please follow and like us: