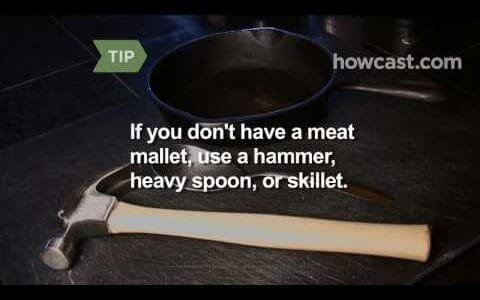 Watch more Easy Chicken Recipes videos: http://www.howcast.com/videos/271439-How-to-Make-Chicken-Parmigiana
Follow these simple steps to make a mouth-watering, hearty Italian classic.
Step 1: Pound it
Pound the chicken breasts flat with a meat mallet.
Tip
If you don't have a meat mallet, use a hammer, heavy spoon, or heavy skillet.
Step 2: Season it
Beat the eggs in a wide, shallow dish. Spread the flour and bread crumbs in two additional shallow dishes. Season the chicken, egg, and flour with salt and pepper.
Step 3: Coat it
Dip each chicken breast in the flour, then the egg, and then the bread crumbs. Gently shake off any excess between ingredients.
Step 4: Brown it
Heat half the oil in the large saucepan on high heat. Add two of the breasts and cook for two minutes on each side, until golden. Set aside and repeat with the remaining oil and breasts.
Step 5: Top it
Place the browned breasts on a baking sheet and top them with marinara sauce and slices of the mozzarella cheese. Sprinkle each piece with parmesan.
Step 6: Bake it
Bake for five to seven minutes in a preheated, 400 degree oven, until the cheese melts.
Step 7: Serve it
Garnish with basil leaves, and serve with a side of hot pasta. Enjoy!
Did You Know?
Did you know? Parmesan is a French word – not Italian – for the cheese parmigiano named for Italy's Parma region.
Please follow and like us: