Keto Sheet Pan Dinner – Roasted Asian Shrimp & Vegetables
I am a huge fan of any meal that can be cooked in one pan like this fast and easy Keto Shrimp and Vegetable sheet pan meal!
This is even faster than ordering a pizza and so much healthier for you and your family, don't you think?
Whether it's a crock pot, instant pot, sheet pan or roaster, if you can do a family meal and wash one pan, it's a winner!
Serve these shrimp and veggies over fried cauliflower rice. See my cauliflower rice tutorial here
(adsbygoogle = window.adsbygoogle || []).push();
Ingredients and Tools needed for Keto Sheet Pan Shrimp and Vegetables
Please note: The blue links are affiliate links meaning I will earn a small commission if you buy the item. This won't affect the price you pay and it does help me keep this blog alive. I appreciate how much my readers support me in this way!
Your ingredient choices will depend if you are Keto, Paleo, doing Atkins or whatever sort of low carb food plan you are on. Some choices are listed below:
The recipe calls for soy sauce which is fine for Keto. If you are Paleo or gluten free then substitute coconut aminos
Rice wine vinegar generally has a fair bit of sugar, so if you are Keto then use what I use, this Nakano unsweetened rice vinegar.
The honey in this recipe is fine for Paleo but if you are Keto low carb then substitute any sweetener
Special Tools
(adsbygoogle = window.adsbygoogle || []).push();
Yield: 4
Keto Sheet Pan Dinner – Roasted Asian Shrimp and Veggies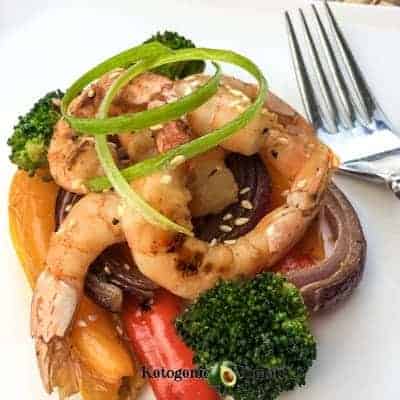 Fast keto sheet pan shrimp and vegetable dinner featuring succulent shrimp and colorful vegetables with Asian inspired flavors. Easy cleanup with just one pan! Serve with cauliflower rice.
Ingredients
Sauce:
¼ cup soy sauce for Keto) or coconut aminos(for Paleo)
2 Tbsp unsweetened rice wine vinegar
1 Tbsp sesame oil
2 Tbsp honey (for Paleo) or 2 tbsp sweetener (for Keto)
½ tsp garlic powder
1 Tbsp fresh ginger, finely minced
¼ tsp crushed pepper flakes
Sea salt and black pepper, to taste
Sheet Pan:
1 12 ounce bag frozen broccoli florets
1 lb mini sweet peppers, seeded and sliced
1 medium red onion, sliced
1 lb shrimp, peeled and deveined with tail on
Garnish:
1 large lime, cut into wedges
1 Tbsp toasted sesame seeds
5-6 large green onions, sliced
Instructions
Line a large, rimmed baking sheet with parchment paper or a Silpat® baking mat. Set aside.
Place top oven rack in center position and pre-heat oven to 400°F
Prepare the Sauce:
Whisk together the soy sauce (or coconut aminos), rice vinegar, sesame oil, honey (or sweetener), garlic powder, ginger, and crushed red pepper flakes in a medium bowl. Season with salt and black pepper, to taste, and stir to combine.
Combine broccoli, peppers, and onion in a large bowl and pour two-thirds of the sauce on top. Toss until vegetables are evenly coated before spreading into a single layer without overcrowding onto the prepared baking sheet.
Place baking sheet in hot oven and roast for 20 minutes, or until vegetables are crisp tender and starting to develop a bit of color. Remove from oven and set aside.
While the vegetables are roasting, toss the shrimp with the remaining sauce in the same mixing bowl. Season with additional salt and black pepper, if desired, and set aside.
When the baking sheet has cooled slightly, pour shrimp onto the sheet and carefully spread into a single layer among the veggies without overcrowding.
Return baking sheet to oven and roast for another 5-6 minutes, or until the shrimp is cooked through and opaque. Do not overcook the shrimp.
Remove from oven and cool slightly. Top with a squeeze of fresh lime juice, some toasted sesame seeds, and sliced green onions before serving. Enjoy!
(adsbygoogle = window.adsbygoogle || []).push();
Save this Keto Sheet Pan Shrimp and Veggies Recipe to Pinterest!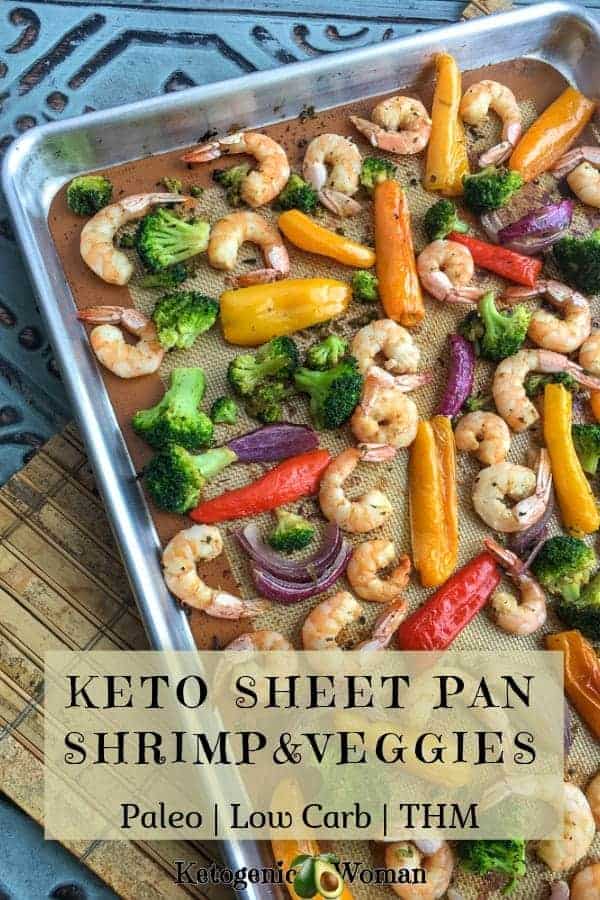 The post Keto Sheet Pan Dinner – Roasted Asian Shrimp and Veggies appeared first on Ketogenic Woman.
Please follow and like us: