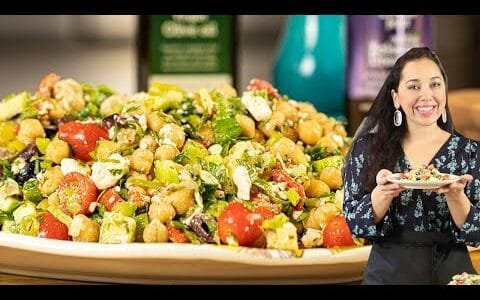 Get the recipe here: https://www.dimitrasdishes.com/mediterranean-chickpea-salad/
Ingredients
2 (15-oz/439g) cans chickpeas, rinsed and drained
1 English cucumber, peeled and diced
2 roasted red peppers, diced
5-6 scallions, thinly sliced
1-2 cups grape tomatoes, halved
4 oz (115g) feta cheese
1/2-1 cup Kalamata olives, pitted and chopped
a handful of fresh parsley, finely chopped
2-3 tablespoons finely chopped fresh mint leaves
2-3 peperoncini peppers, sliced (optional)
The Dressing:
1/4 cup olive oil
2 tablespoons vinegar
2 tablespoons fresh lemon juice
1 garlic clove, grated
1 teaspoon dried crushed oregano
salt, to taste
freshly cracked black pepper, to taste
Instructions
Make the Dressing: Combine all of the dressing ingredients, except the salt and pepper, in a bowl and whisk them together.
Combine all of the salad ingredients in a large bowl and season with salt and pepper. Crumble the feta cheese on top and pour the dressing over the salad. Toss together and serve immediately or chilled.
Notes
Leftovers can be stored in an airtight container in the refrigerator for 2-3 days.
Music Used:
Greek Sun Time (With Intro)
ITEM ID: 66582698
By: tonyanthony
Its All Greek
ITEM ID: 84456733
By: LowNotes
Please follow and like us: