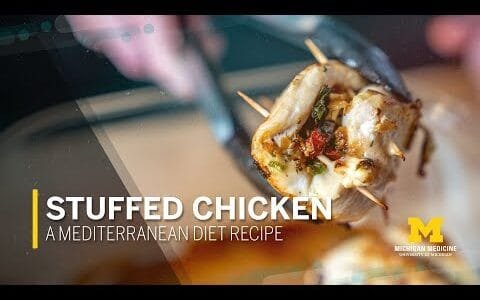 Feta? Chicken? Tart cherries? Yes, please. You've probably heard of the Mediterranean diet before, especially after it made headlines in 2013 with a published study including more than 7,000 people, concluding its strong association with preventing cardiovascular events. But how do you get started following it, exactly? Well, for starters, it's not a diet, it's a meal plan change.
Get the full recipe and expert Mediterranean diet tips here: http://michmed.org/Wnw84
——————————————————-
To learn more about the U-M Frankel Cardiovascular Center, visit: https://www.umcvc.org/
——————————————————-
Subscribe to Michigan Medicine's YouTube channel for upcoming videos and future live streams featuring our experts answering your questions.
——————————————————-
Follow Michigan Medicine on Social:
Twitter: https://twitter.com/umichmedicine
Instagram: https://www.instagram.com/umichmedicine/
Facebook: https://www.facebook.com/MichiganMedicine/
#MichiganMedicineCooks #Recipes #MediterraneanDiet #Chicken #ChickenRecipe #Feta #Food #Cooking #CookingFood #HealthTips #HealthyFood #HealthyDiet #HealthyRecipes #HealthyCooking #StuffedChicken #Cherries #Kale #DinnerRecipes
Please follow and like us: