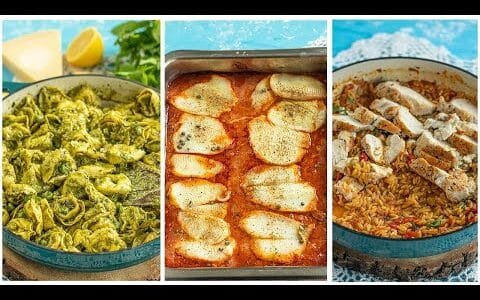 Print the recipes here: https://www.dimitrasdishes.com/3-quick-easy-mediterranean-dinners-that-your-family-will-love/
Ingredients
For the Creamy Pesto Tortellini:
20-oz refrigerated tortellini
1 cup frozen peas, thawed
8 oz pesto
1/4 cup half and half or heavy whipping cream
2 cups reserved pasta water
4 scallions, thinly sliced
2-3 tablespoons olive oil
pinch of crushed red pepper flakes
salt, to taste
1 lemon
For the Mediterranean Chicken Orzo:
2 boneless skinless chicken breasts
1/4 cup olive oil
1/2 of an onion, finely chopped
4 garlic cloves, grated
salt, to taste
freshly cracked black pepper to taste
1 cup orzo pasta (uncooked)
3 cups chicken broth
4-5 pitted Kalamata olives, chopped
2 roasted red peppers, diced
1/4-1/2 cup mild Harissa sauce
4-6 oz feta cheese
2 tablespoons finely chopped fresh parsley
For the Mediterranean Flounder:
1 and 1/2 pounds flounder fillets
1/4 cup olive oil
1 onion, cut in half and thinly sliced
4-5 garlic cloves, grated
1 (24-oz/680g) prepared pasta sauce
1/4 cup mild harissa or 1/2 teaspoon crushed red pepper flakes
1/2 teaspoon dried oregano
7-8 pitted Kalamata olives, chopped or 1 tablespoon capers
1-2 teaspoons finely chopped parsley
Instructions
Creamy Pesto Tortellini:
Bring a pot of salted water to a boil. Cook the tortellini according to the package instructions. Reserve 2 cups of the pasta water and drain the pasta. Set aside. In a large skillet cook the scallions with the olive oil over medium heat. About 2-3 minutes. Add the peas and season with salt and pepper and cook until warmed through. About 5-6 minutes.
Add the pesto and cream and warm through. Add the pasta and a cup of the pasta water along with thr crushed red pepper flakes. Mix together and taste. Adjust the seasoning if neeeded. Squeeze the lemon juice on top, toss and serve.
Mediterranean Chicken Orzo:
Season the chicken breasts on both sides with salt and pepper. In a large skillet that is heating over medium-high heat add the olive oil. Add the ch
Please follow and like us: