Addictive Bacon Wrapped Jalapeno Poppers
Did you know that you can have some of the most amazing foods while on a low carb keto diet? In fact, some of the best snack foods out there are completely low carb. And if they aren't low carb, you can make them low carb! That is just what we did with this jalapeno popper recipe. Now, you can enjoy delicious, mouth-watering jalapeno poppers that completely fit into your low carb diet and here is how.
Traditionally, jalapeno poppers are coated in breadcrumbs which makes them completely off limits to those trying to follow a low carb diet. Way too many carbs in breadcrumbs! So with this recipe, we completely eliminated the bread crumbs and added something a little more appealing…can you guess what? Bacon! And doesn't bacon make everything better? Absolutely.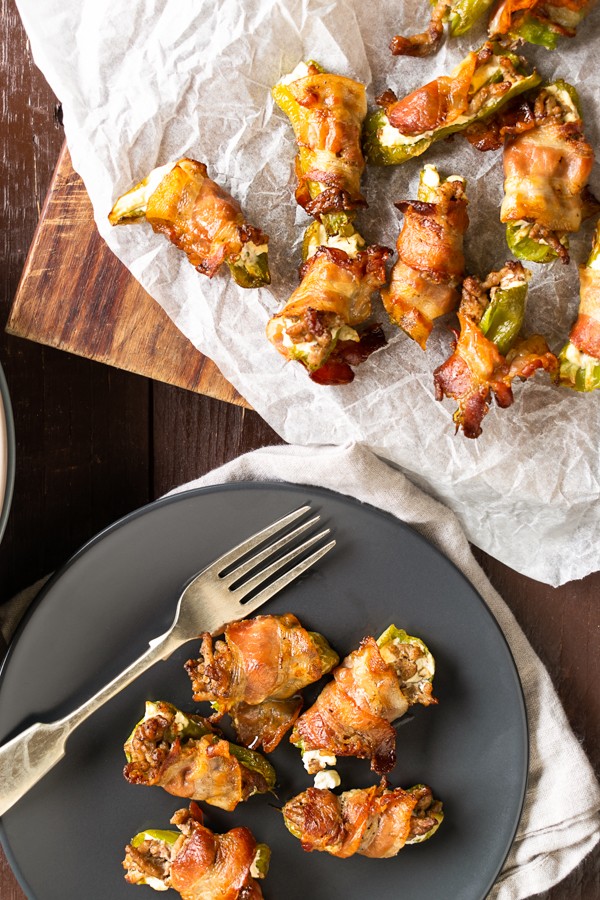 While you may be thinking that bacon isn't really the same as breadcrumbs, you are correct. Bacon and breadcrumbs are not the same at all but they can both be used as an outer coating for jalapeno poppers. Where breadcrumbs used to cover the jalapeno, now bacon is wrapped around the jalapeno, securing the filling inside, adding crunch and, of course, amazing flavor to the jalapeno poppers. Talk about the best ingredient substitute ever!
In addition to making these jalapeno poppers even better by adding bacon, there is also some juicy ground beef sprinkled onto this beautiful appetizer. So while in theory, these low carb jalapeno poppers are an appetizer, snack or side dish, you may be able to consider them a full meal. There is meat, there is a vegetable (jalapenos are a veggie!) and there is cheese…sounds like a complete meal!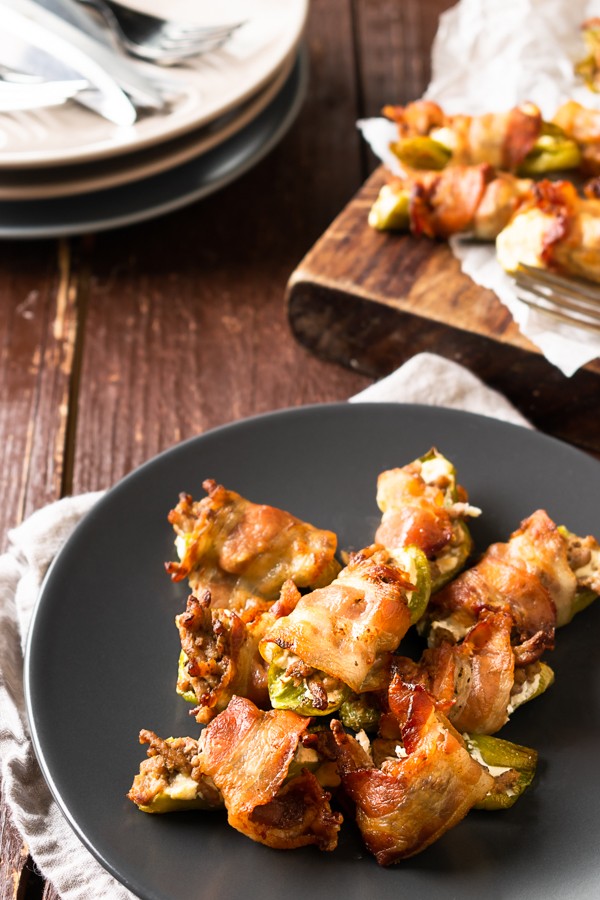 While we in the low carb world embrace fats, it is always a healthier option to bake food rather than fry it. In fact, deep frying foods has been shown to cause heart disease and cancer as the high heat can cause the starches within the food to turn into carcinogens (cancer-causing substances). When you eat deep fried foods often, your exposure to these harmful elements increases. So eating deep fried jalapeno poppers every day may not be such a great idea.
This recipe utilizes our favorite kitchen appliance, the oven! Baking the jalapeno poppers not only decreases the health risks associated with deep fried foods but also cuts back on some calories as the poppers aren't absorbing extra oil as they cook. Don't worry though, you will still get that crunch you are looking for on the outside of the jalapeno popper- thanks bacon!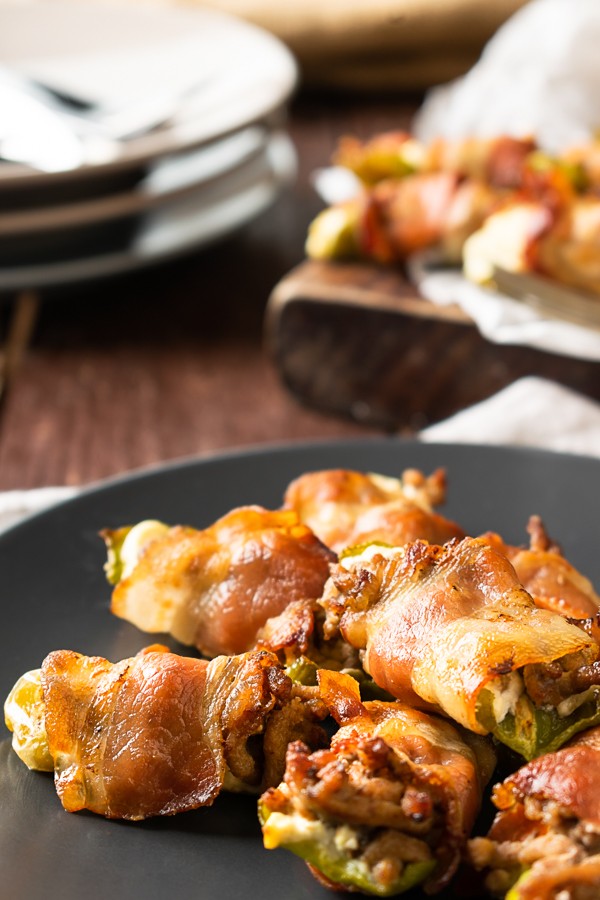 By now, your mouth is probably watering thinking about these cream cheese, beef stuffed bacon wrapped jalapeno poppers that will make your low carb diet something to celebrate. What other diet would allow you to eat something so incredible?!? Time to start cooking!



6

ounces





80% lean ground beef




8

fresh





jalapenos




2

ounces





cream cheese

softened




8

slices





bacon

cut in half






salt and pepper
Preheat the oven to 400°F and place a wire rack over a foil-lined baking sheet.

Cook the beef in a large skillet over medium-high heat until browned then season with salt and pepper.

Cut the jalapenos in half lengthwise and discard the seeds.

Spread the cream cheese over the jalapeno halves and top with ground beef.

Wrap the jalapeno halves in bacon and place them on the rack.

Bake for 30 minutes until the bacon is crisp then serve hot.
The post Bacon Wrapped Jalapeno Popper Recipe appeared first on Tasteaholics.
Please follow and like us: