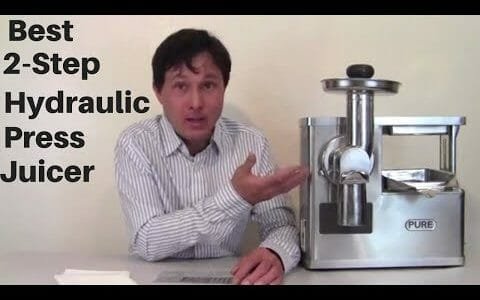 John from http:///www.discountjuicers.com/ introduces you to the Pure Hydraulic Juice Press. You will learn how to operate the press as well as how to make carrot juice in the Pure Cold Press Juicer.
In this episode, you will learn about the Pure juicer, which is a 2 step grinding and pressing style juicer that is perfect for the Gerson therapy juicing program. The Pure Juicer is an improved 2 step Norwalk style juicer that you first grind at 3450 rpm and then press out the juice mash in a press cloth or press bag.
You will learn some of the specific upgrades in the Pure Juicer that makes it superior to the Norwalk Juicer.
You will see how the Pure juicer can easily grind carrots so they can be pressed out into juice.
Finally, John will share his opinions about the pure cold press juicer.
Jump to the following parts of this episode:
02:30 Comparing the Hydraulic Press Style Juicer vs other style machines
05:15 What is a two-stage hydraulic press juicer?
06:12 Why the Pure Juicer is better than a Norwalk Juicer
12:25 How to Avoid Excess Heat and Friction during Grinding
14:40 How to Assemble the Pure Cold Press Juicer
19:40 Juicing 5 Pounds of Organic Carrots in the Pure Juicer
22:00 Collection Bowls I am using to use with the Pure Juicer
22:40 How loud is the Pure Juicer
23:00 Grinding up Carrots in the Pure Juicer
25:20 How to fill a press cloth with carrot pulp
34:30 Benefits of the Two Step Hydraulic Press
36:36 No Belt Slippage on the Pure Juicer
39:00 Pro and Con of Using Press Cloths
46:00 What does the color of the juice mean?
After watching this episode, you will learn about the best 2 step hydraulic grind and press style juicer available on the market today. You will discover the specific benefits the Pure Cold Press Juicer offers over the Norwalk for the Gerson Therapy.
Learn more about and purchase the Pure Juicer at
http://www.discountjuicers.com/purejuicer.html
Referenced and Related Episodes:
Pure Hydraulic Juicer vs Norwalk Juicer
http
Please follow and like us: