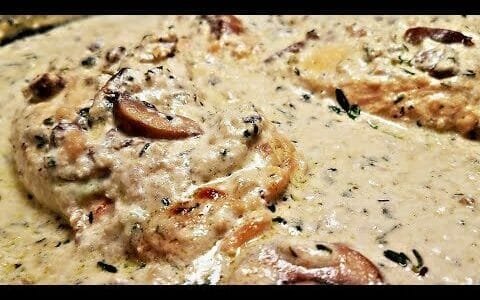 Please like, share and SUBSCRIBE. Be sure to CLICK the BELL ICON to get my latest videos. MORE RECIPES BELOW! Thank you!
INGREDIENTS
1.5 to 2 lbs boneless skinless chicken breast (season to taste)
8 oz baby bella mushrooms
4 tbsp unsalted butter
half of small onion (1.5 oz to 2 oz )
3 cloves garlic minced
salt and pepper to taste
1 tbsp fresh rosemary
1 tbsp fresh thyme
1 tbsp fresh parsley
1 tbsp fresh chives
3 cups (24 oz) heavy cream (or half and half)
2 to 3 oz grated parmesan cheese
CHICKEN SEASONING
1 tsp lemon pepper
1/2 tsp garlic powder
1/2 tsp onion powder
1/4 to 1/2 tsp salt
VINAIGRETTE
2 tbsp lemon juice
2 tsp Dijon mustard
2 tsp maple syrup (or honey)
2 tbsp olive oil
salt and pepper to taste
BAKED LEMON CHICKEN

EASY ROASTED CHICKEN LEGS

HOW TO ROAST A WHOLE CHICKEN

OVEN BBQ RIBS RECIPE

BARBACOA VIDEO

EASY MEXICAN RICE RECIPE

MY OTHER CHILES RELLENOS RECIPE VIDEO

PICADILLO RECIPE

CROCK POT CARNE GUISADA RECIPE

SOFT FLOUR TORTILLAS RECIPE

STOVE TOP CARNE GUISADA RECIPE

TEX MEX STYLE BEEF ENCHILADAS RECIPE

MOLE SAUCE RECIPE

CHILE RELLENOS RECIPE

FRIED CHICKEN RECIPE (No Buttermilk)

DISCLAIMER: This video and description contains affiliate links, which means that if you click on one of the product links, I'll receive a small commission. This helps support the channel and allows me to continue to make videos like this. Thank you for the support!
MUSIC
Ulas Pakkan, Courtesy of Shutterstock, Inc.
https://soundstripe.com
Please follow and like us: