Easy Rack of Lamb with Herbs and Garlic (Keto and Low Carb)
If you are looking for an elegant meal to serve on a special occasion, I have to say that a roast rack of lamb will certainly impress your guests.
Yet it is one of the easiest meals to make!
When you find out how simple it is to roast this crispy and juicy rack of lamb, a 'special occasion' will be whenever you see it on sale!
That's exactly what happened recently when my local supermarket had lamb racks on a Buy one, Get one free promotion. I simply could not resist.
How perfect that lamb is zero carbs and all we need is a few simple things to make this a delicious yet impressive low carb keto meal.
Want to know how healthy lamb is? Read the 5 Health Benefits of Eating Lamb here.
(adsbygoogle = window.adsbygoogle || []).push();
What Herbs go well with Lamb?
My favorite way to make a lamb rack is with a marinade of olive oil, lemon, fresh rosemary, garlic and thyme.
But honestly, I love lamb just about any way I've tried it!
Dijon, lemon, garlic and thyme
salt, pepper and garlic
parsley, rosemary and thyme
many people like mint with lamb. Not me, but maybe it's for you!
What sides go well with rack of lamb when doing keto or low carb?
There's something about asparagus that makes me think I need lamb and vice versa!
Easter is a perfect time to make lamb because so many spring vegetables are ready
Roast some vegetables right in the pan! Think cherry tomatoes, asparagus, tender young zucchini and radishes. You can easily make this a one pan sheet pan dinner!
Pure comfort food when you add pureed cauliflower (see my cauli mash recipe here)
For guests, make a greek cauliflower rice dish with parsley, lemon and oregano
For this recipe, I roasted asparagus right in the sheet pan beside the lamb racks. And I used lemon, garlic, rosemary, thyme and olive oil on the lamb.
(adsbygoogle = window.adsbygoogle || []).push();
Recipe Card for Simple Roast Rack of Lamb with Garlic and Herbs
Yield: 8 servings
Easy Keto Rack of Lamb with Herbs and Garlic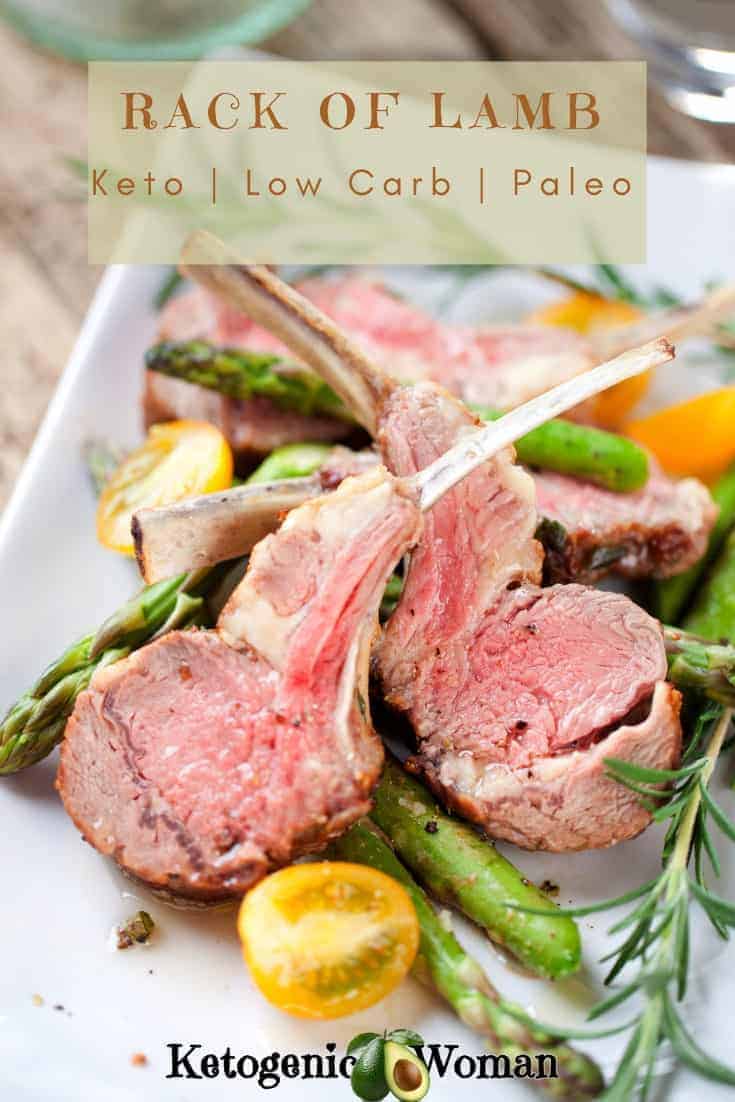 Juicy succulent roast rack of lamb is so ketogenic and so fancy! Yet it is quick and simple enough for a weeknight dinner. Roast veggies alongside for a sheet pan meal! Perfect Easter meal.
Ingredients
2 Lamb racks (about 6-8 ribs each)
2 tbsp olive oil
juice of 1 lemon
1 tbsp minced garlic (3-4 cloves)
2 rosemary sprigs
2 thyme sprigs
salt and pepper
Instructions
Preparation:
Put all the ingredients in a large ziploc bag
Smoosh it around. Yes I think that's a legit cooking term.
Allow the lamb to marinate for a couple hours or even overnight.
When ready to Cook:
Place ziploc bag on plate on the counter an hour before cooking to allow it to come to room temperature
Preheat oven to 375
Place lamb racks in roasting pan.
Place rosemary sprigs in pan.
If roasting veggies, arrange them in the pan as well
Check lamb with a thermometer at about 20-25 minutes. The lamb will be medium rare at about 140 degrees
Cook longer if needed to reach desired temperature.
Cover with foil and let rest for a few minutes.
Slice into lamb chops and serve with roasted veggies and cauliflower mash or rice.
Pin this juicy keto roast rack of lamb recipe to Pinterest: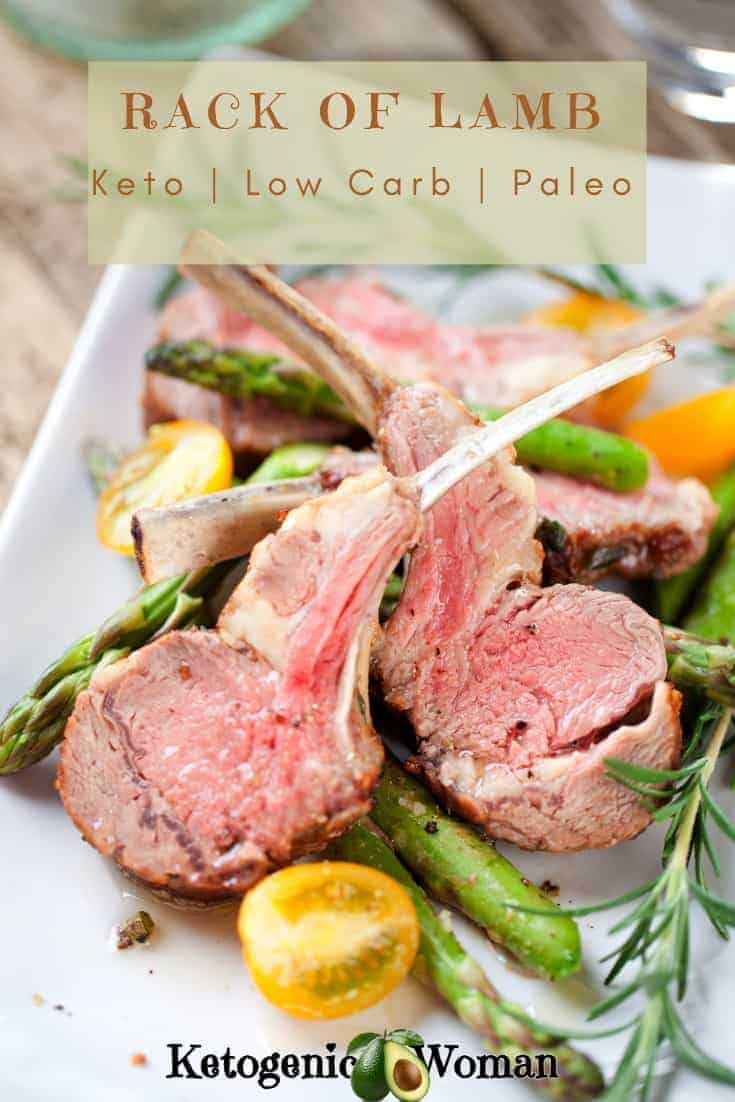 The post Easy Keto Rack of Lamb with Herbs and Garlic appeared first on Ketogenic Woman.
Please follow and like us: