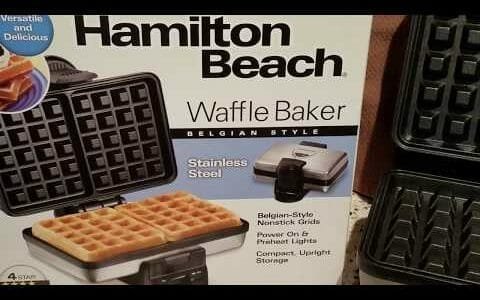 In this video I review and demonstrate my Hamilton Beach waffle maker, model: 26009. It has 650 watts and makes 2 square, Belgian~style waffles at a time. The finished waffles are approximately 3/4″ thick. They come out nice and crispy on the outside, soft and fluffy on the inside. It's a small unit that's perfect for small kitchens, small families, singles or college dorms. It's also great for waffling other foods like grilled cheese, cinnamon rolls, etc… I've included my own homemade waffle recipe here which I used in the video:
Homemade Buttermilk Waffles
1 c. All Purpose Flour
1/4 c. Cornstarch
2 t. Baking Powder
1 t. Baking Soda
1/2 t. salt
2 T. Sugar
1/2 c. Melted Coconut Oil ~or~ Melted Butter
1 c. Buttermilk
1 Egg
Preheat your waffle maker. Preheat your oven to 200F. In a medium mixing bowl whisk together all of the dry ingredients, make a well in the center and set aside. In a small bowl mix together the buttermilk and oil. Add the egg to the milk mixture and whisk to incorporate. Pour the milk mixture into the well of the dry ingredients and whisk just until all dry ingredients are moistened. A few lumps are ok. Do not overmix the batter. When waffle iron is up to temperature, lightly oil the top and bottom grates, then add batter. (The Hamilton Beach model takes slightly less than 1/2 cup per side of the waffle grates.) Bake until golden, about 3-4 minutes. When finished, transfer waffles to warm oven and lay them directly on the oven rack. (If waffles are placed on a plate or pan, the bottoms will become soggy.) ENJOY!
My channel contains video reviews of products I own & have purchased with my own money. I am not in any way affiliated with any company that manufactures, sells or represents these products. My intent is to be helpful in sharing my own experience with these products. It also contains DIY projects that are for craft and/or information purposes only and should not be construed as expert or medical advice.
Please follow and like us: