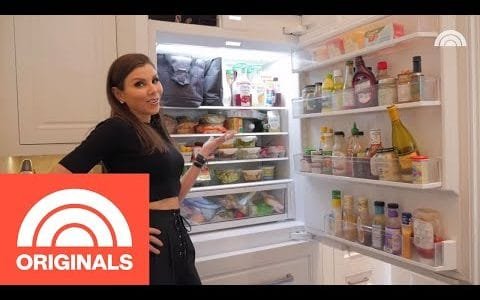 The former cast member of "The Real Housewives of Orange County" gives us a peek into her custom-built kitchen which includes a larger-than-life champagne wall, a garage-to-pantry dumbwaiter and heavenly stacks of snacks. Plus, she shows us how to make a surprisingly simple party appetizer that's perfect for kids.
» Subscribe to TODAY: http://on.today.com/SubscribeToTODAY
» Watch the latest from TODAY: http://bit.ly/LatestTODAY
About: TODAY brings you the latest headlines and expert tips on money, health and parenting. We wake up every morning to give you and your family all you need to start your day. If it matters to you, it matters to us. We are in the people business. Subscribe to our channel for exclusive TODAY archival footage & our original web series.
Connect with TODAY Online!
Visit TODAY's Website: http://on.today.com/ReadTODAY
Find TODAY on Facebook: http://on.today.com/LikeTODAY
Follow TODAY on Twitter: http://on.today.com/FollowTODAY
Follow TODAY on Google+: http://on.today.com/PlusTODAY
Follow TODAY on Instagram: http://on.today.com/InstaTODAY
Follow TODAY on Pinterest: http://on.today.com/PinTODAY
Crazy Kitchens: Heather Dubrow's Hyper-Organized Pantry Was Inspired By Khloe Kardashian | TODAY
Please follow and like us: