Keto Thai Coconut Curry Soup
I make several different versions of chicken curry soups just because I love the flavors so much!
Which version of this flavorful low carb curry soup I make is really all about what I happen to have in my pantry and fridge on that day!
And if you are doing Paleo or Whole 30, the ingredients are so flexible to switch up to fit any keto or low carb type of protocol.
I've also included instructions for both Instant Pot (because I'm all about my new toy these days!) and the stove top, so worry not! Both are easy peasy!
(adsbygoogle = window.adsbygoogle || []).push();
Is Coconut Milk Keto Friendly?
I wanted to be sure to answer this because people new to keto have this question a lot!
The answer is yes! And coconut milk is one of my favorite ingredients for making keto thai recipes like this.
It's high in fats, the really good for you MCTs that come from coconut oil! It's low in carbs and its dairy free.
Where I shop, it comes in low fat, regular and full fat. Use whichever one suits your macros the best, all will be delicious in this chicken curry soup recipe.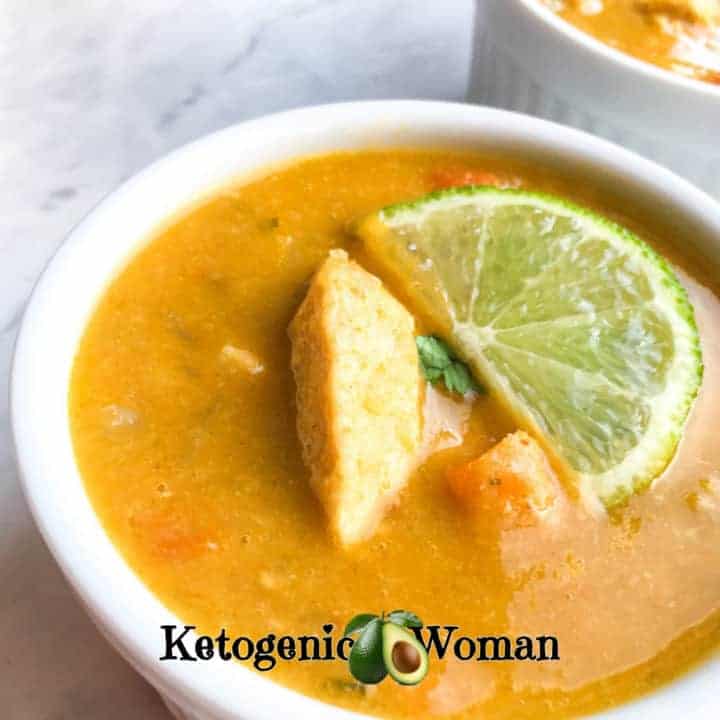 Ingredients you will need to make this Keto Thai Coconut Curry Soup
You'll need to gather a few standard pantry items as well as some you may or may not keep on hand. The ingredients in blue are linked to Amazon so you can check them out. If you buy them I do make a small commission which doesn't affect your price but DOES help me keep this site alive!
onions, garlic, peppers and fresh ginger
1 can of unsweetened coconut milk
1 lb chicken breast
bell peppers and spinach
olive oil, salt and pepper
limes and fresh cilantro
coriander and cumin
Maple syrup for paleo, or this maple syrup if keto
You can make this Thai Coconut Curry Soup in a soup pot or Instant pot
I have the 6 qt Instant Pot and I find it to be perfect for a family of four.
One main reason that I like the Instant Pot so much is that everything has a more tender texture and deeper flavors due to the pressure cooking.
I know that some people get them and then don't really know how to start using them. If that is you, then you need this!:

(adsbygoogle = window.adsbygoogle || []).push();
Yield: 4
Keto Thai Coconut Curry Soup (Instant Pot and Stove Top)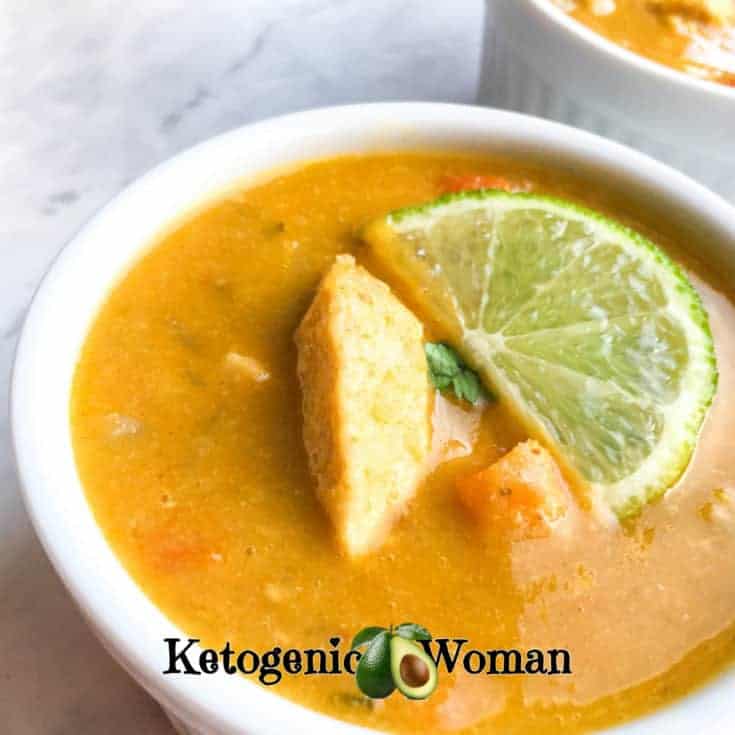 Ingredients
2 T. extra virgin olive oil
1 small yellow onion, diced
1 lb. boneless skinless chicken breast, cubed
Sea salt and black pepper, to taste
3-4 garlic cloves, minced
1 1-inch ginger piece, peeled and minced
1½ t. ground coriander
3 T. Thai red curry paste
1 medium green bell pepper, diced
1 medium red bell pepper, diced
1 medium yellow bell pepper, diced
1 14-oz. can full-fat coconut milk
2 c. baby spinach
2 T. lime juice
1 T. maple syrup
3 T. fresh cilantro, chopped
1 large lime, cut into thin half round slices
Instructions
Heat the olive oil in a large high-sided skillet over medium heat. Add the onion and cook until tender and fragrant, about 4-5 minutes. InstantPot: Press Saute button and cook onion for 2-3 minutes
Add the chicken and cook, stirring often, until the breast develops a bit of color,around 4-5 minutes. Season with salt and black pepper, to taste.
Instant Pot: Add the rest of ingredients now (except the lime slices and cilantro). Stir to combine. Set lever to vent position and lock lid in place. Set to Soup.
For stovetop, follow steps 5-7
Add the garlic, ginger, coriander, cumin and red curry paste. Cook for 1-2 minutes or until the spices become fragrant.
Add bell peppers and season with additional salt and pepper, if desired. Stir to combine and cook until peppers soften and develop a bit of color, about 1-2 minutes.
Add coconut milk and simmer until slightly thickened, approximately 4-5 minutes. Stir in spinach, lime juice, and maple syrup. Taste and adjust seasonings, as desired.
Instant Pot: Allow to Natural Release for about 10 minutes, then unlock the lid.
Serve immediately topped with fresh cilantro and lime slices, if desired.
Notes
See ingredient notes in main article.
Try these other Keto Soups for the Instant Pot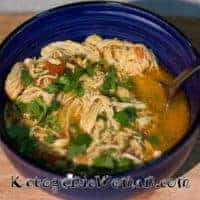 Instant Pot Coconut Curry Chicken Soup – Keto, Low Carb, Gluten Free
Super fast and low carb easy shredded coconut curry chicken soup.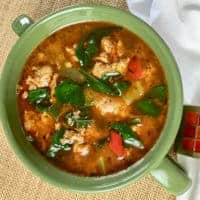 Keto Sausage Soup with Peppers and Spinach
This delicious sausage soup has a satisfying combination of spicy Poblano pepper, classic herbs, and an interesting blend of spices.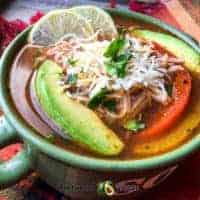 Keto Chicken Fajita Soup for the Instant Pot
A delicious healthy easy Mexican theme soup to warm you up! Turns out fantastic in the Instant Pot.
Save this Keto Thai Coconut Curry Chicken Soup recipe to Pinterest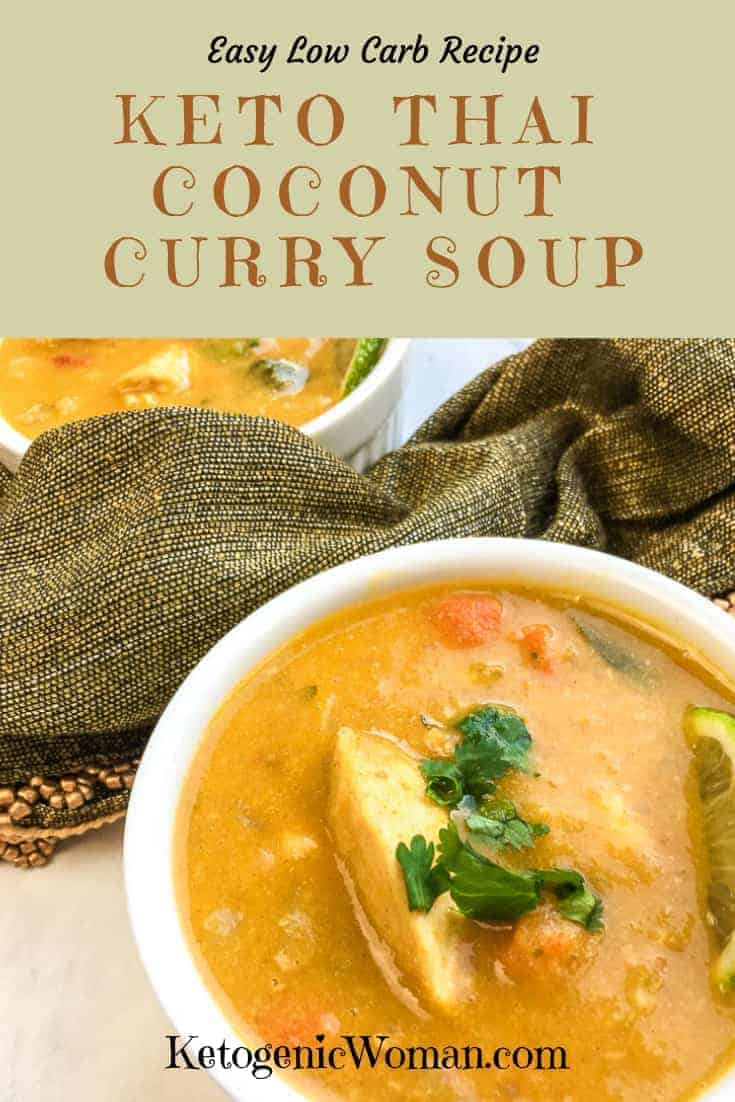 The post Keto Thai Coconut Curry Soup (Instant Pot and Stove Top) appeared first on Ketogenic Woman.
Please follow and like us: