Keto Turkey Stuffed Mushrooms
I love this low carb recipe for turkey sausage stuffed portabello mushrooms!
It is an extremely versatile recipe. You can make it spicy or not. You can use turkey sausage or chicken sausage.
You can use large portabello mushrooms and make 4 dinner portions or you can use the baby bellas (basically a small portabello mushroom) and make these a fantastic low carb appetizer.
You could even make a skinny version of these Keto turkey stuffed mushrooms by using the 98% fat free ground turkey breast.
(adsbygoogle = window.adsbygoogle || []).push();
Ingredients you will Need to make these Keto Turkey Stuffed Mushrooms
Turkey or chicken sausage or ground turkey or chicken
Portabello mushrooms
goat cheese (or any strong flavored cheese that you like)
olive oil
seasonings
(adsbygoogle = window.adsbygoogle || []).push();
Kitchen Tools needed for Turkey sausage stuffed mushrooms
Tips and Variations to make the Keto Turkey Sausage Stuffed Portabello Mushrooms
This is a great low carb dish that can be used and prepared many different ways:
Change the size of the mushrooms to make them appetizers, dinner or side dish
Chop up a spicy jalapeno or poblano pepper to get them an extra flavor kick
Change the cheese to whatever you prefer! I like goat cheese because a little makes a lot of flavor
You can buy turkey sausages and remove the casings, no extra seasoning is required
If you are using ground turkey instead of sausage, then you will need seasonings. I would go with 1/2 teaspoon each of salt, pepper, rosemary, sage and garlic.
(adsbygoogle = window.adsbygoogle || []).push();
Printable Recipe Card for Keto Ground Turkey Stuffed Mushrooms:
Keto Turkey Stuffed Mushrooms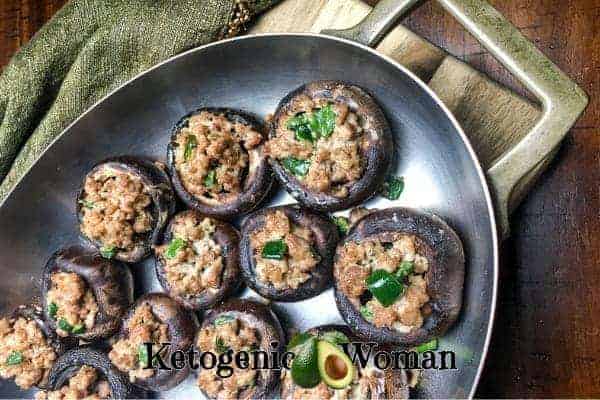 Ingredients
3 Tbsp extra virgin olive oil, divided
1 lb. bulk turkey or chicken sausage, or 1 lb ground turkey
4 oz. goat cheese, room temp, cut into small chunks
4 large Portobello mushrooms or 1 lb baby bella mushrooms, rinsed, stems removed, and patted dry
Sea salt and black pepper, to taste
Instructions
Preheat oven to 350°F and lightly grease a large roasting pan with one tablespoon olive oil. Set aside.
Heat remaining olive oil in a large skillet over medium heat.
Add turkey sausage to the skillet. Cook until no longer pink, approximately 6-8 minutes, breaking up the sausage into small pieces while cooking.
Add goat cheese to skillet and cover for 1-2 minutes. Remove cover and stir until cheese is completely melted and combined with the turkey and pepper mixture. Remove from heat and set aside.
Fill each mushroom cap with some of the turkey mixture. Drizzle the mushrooms with remaining olive oil and season with salt and black pepper, as desired.
Place pan in the pre-heated oven and roast until the mushrooms are slightly browned around the edges, approximately 10-12 minutes. Remove from oven and serve immediately.
Save this Keto Turkey Stuffed Mushrooms Recipe to Pinterest: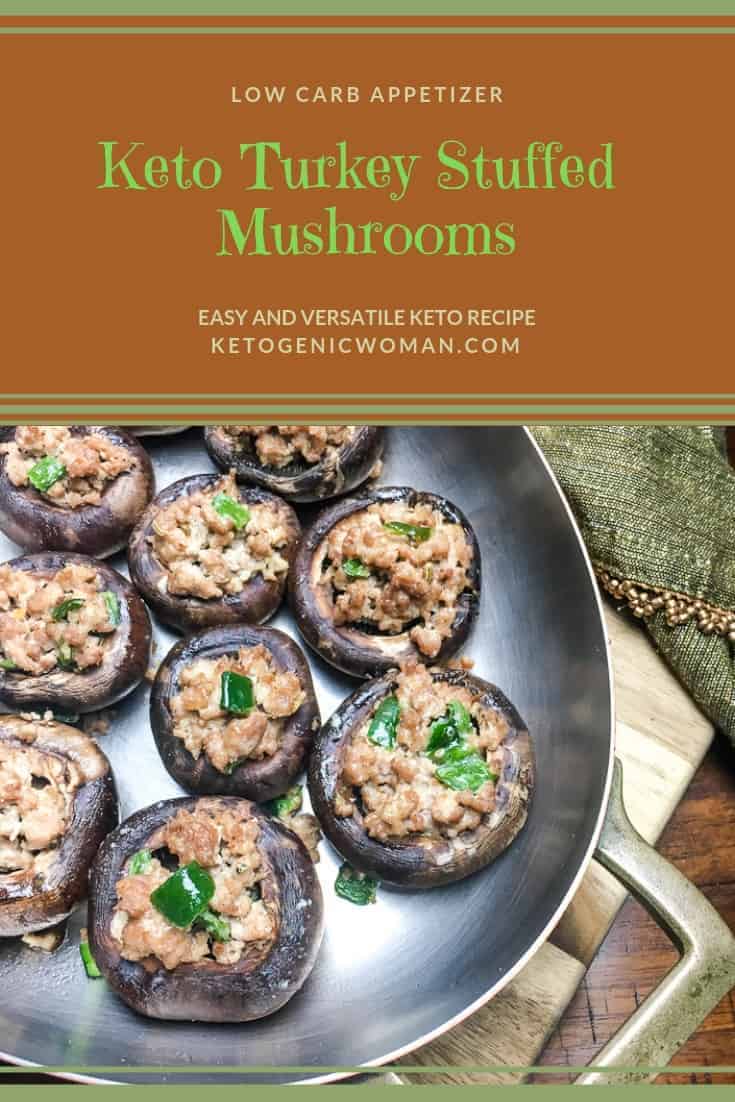 The post Keto Turkey Stuffed Mushrooms appeared first on Ketogenic Woman.
Please follow and like us: