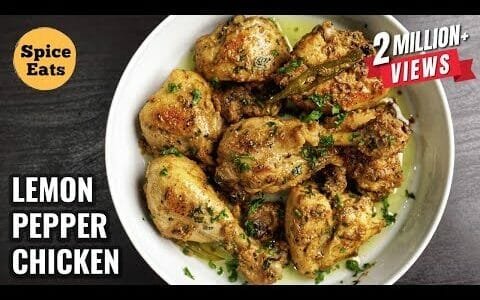 Lemon Pepper Chicken | Easy Lemon Pepper Chicken Recipe | Chicken Starter Recipe | Chicken Appetizer | Lemon Pepper Chicken Fry | Lemon Pepper Chicken by Spice Eats
Ingredients for Lemon Pepper Chicken:
– Chicken, large pieces with bones- 500 gms
For Marination:
– Salt- 1 tsp
– Crushed Pepper- 1 tsp (coarse granules)
– Lemon Juice- 2 tsp
– Thick whisked curd/yogurt- 2 tbsp
– Ginger Garlic Paste- 1.5 tsp
Whole Spices:
– Green Cardamom- 3
– Cloves-3
– Cinnamon- 2
– Black Peppercorns- 10
Other Ingredients:
– Whisked curd/plain yogurt- 4 tbsp
– Crushed Pepper- 1/4 tsp
– Green Chillies, slit- 4
– Garam Masala Powder- 1/4 tsp
– Oil- 3 tbsp
– Butter- a dollop (1 tbsp)
– Coriander leaves, finely chopped- 1 tbsp
Preparation:
– Crush the black peppercorns.
– Marinate the chicken pieces with items indicated. Mix & set aside for 1 hr.
– Whisk the curd/yogurt.
– Slit the green chillies and fine chop the coriander leaves.
Process:
– Heat oil & butter in a flat pan and add the whole spices.
– Once it splutters, add the marinated chicken & fry on high heat for 1 min and then flip the chicken pieces.
– Continue to fry for 2-3 more mins on high turning the pieces a few times.
– Add the balance marinade and continue to fry on both sides for another 5 mins on medium heat till evenly browned.
– Now reduce the heat to low, add the whisked curd/plain yogurt, 1/4 tsp crushed Pepper, slit green chillies and mix everything well.
– Cover & cook on low heat for 15 mins, flipping and stirring after 10 mins. Cook till the liquid has nearly dried and the chicken is tender.
– Now add the garam masala powder, mix well and fry for another 5 mins till the chicken pieces are browned.
– Garnish with finely chopped coriander leaves and serve hot.
#lemonpepperchicken #chickenstarter #chickenappetizer #lemonpepperchickenfry #spiceeats
#spiceeatsrecipes #spiceeatschicken
Please follow and like us: