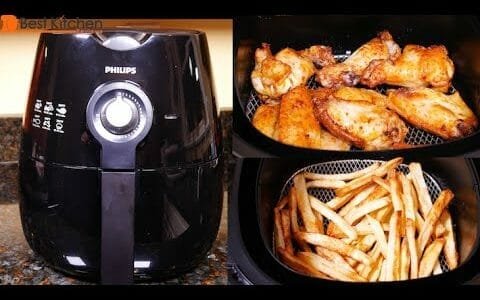 LINK to Philips Airfryer: http://amzn.to/2etCSoS Hi Guys, today I'm reviewing the Philips Airfryer. This is supposed to be a healthy alternative to deep fried cooking.
You can fry, bake and grill with this unit. It works on hot air. The Airfryer is 15.1 inches tall and inches 11.2 inches wide. The unit is plastic and weighs 15.4 lbs. It can cook up to 28 ounces of food. Included with the unit is a user manual and recipe book.
There is a guide with max amounts and cooking times for frozen food, meat, french fries. There are recipes for fries, spring rolls, chicken wings, steak, a whole cornish game hen, salmon and even a vanilla souffle.
If you want to try the Airfryer for yourself, I've put a link in the description below.
Link to Philips Airfryer: http://amzn.to/2etCSoS
This is the air outlet and it shouldn't be blocked. There is cord storage on the bottom.
Let's go ahead and test the Airfryer. First I'll make french fries using the recipe in the booklet. I've cut three medium peeled russet potatoes about ½ inch thick and soaked them in water for 30 minutes. I drained the potatoes and patted them dry.
Plug in the unit. The power on indicator lights up. Preheat to 360 degrees. Turn the temperature dial to 360 and the timer to 3 minutes. Mix in 1 tbsp of olive oil to the potatoes. After 3 minutes, the unit is hot. Pull the pan out. Put the potatoes in, don't fill past the max line. Also, the more space there is in the pan, the crispier your food will be. Slide the pan back. The pan is very hot so it's best to hold the handle. Set the timer to cook for 30 minutes. Shake the basket a few times during cooking. Press the basket release button and lift the basket out. Sprinkle them with salt while they're hot.
Next I'll make chicken wings. The airfryer can be used right after the fries are done to cook the wings, you don't have to wait. This is about 2 pounds wings that I've seasoned. Preheat the Airfryer to 360 degrees. Place the wi
Please follow and like us: