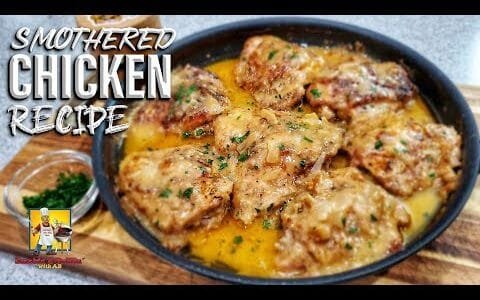 Smothered Chicken and Gravy Recipe | Comfort Food – This Creamy Smothered Chicken and Gravy Recipe using Chicken Thighs are seasoned perfectly and cooked in the oven nice and slow to guarantee that Southern Moist taste we've all become used to eating.
Smothered Chicken and Gravy Ingredients
6 – 8 Bone-in Chicken Thighs
Oil for frying
2 tsp granulated garlic
1 tsp paprika
2 tsp oregano
1/2 tsp chili powder
1 cup all-purpose flour
1 small Onion
2 garlic cloves
2 cups Chicken Broth
1/2 cup Heavy Cream
Pinch of Red Crushed Pepper
2 tbsp Butter
Salt and Pepper to taste
Parsley for Garnish
Preheat Oven to 425* Fahrenheit
Bake in oven for 1 hour
SUBSCRIBE FOR MORE ►►
Click this link to become a member of Smokin and Grillin wit AB
https://www.youtube.com/channel/UC6tJ9C5SBvK6b-0cejoc4vg/join
PERKS for YOUTUBE MEMBERS
????5 Gets you Bi-Weekly written recipes, Acces to private live streams, Acces to the Exclusive Smokin and Grillin wit AB (TBD), Your name at the end of the video (credits).
Become a YouTube member and Thank you in advance!
If your like this video and would like to see more don't forget to like, share, and subscribe and hit the bell for a notification of the latest video.
My Amazon Store
https://www.amazon.com/shop/smokingrillinwitab
**** Video Gear and Links ****
My Gear
Camera 1: Panasonic GH5 – https://amzn.to/2SNlgsH
Camera 2: Nikon D7000 – https://amzn.to/2PJ3sgw
Camera 3: Samsung Note 8 – https://amzn.to/2QTuOVx
Favorite Prime Lens: PANASONIC LUMIX G X VARIO II PROFESSIONAL LENS 12-35MM – https://amzn.to/2PEZ0PH
Favorite Zoom Lens:
Favorite Cell Mic: http://amzn.to/2COwPaD
Production Tech
Desk Mic: http://amzn.to/2GRHbcn
Lighting Kit: http://amzn.to/2F2fhxT
Neewer 4x 160 LED Lighting Kit: http://amzn.to/2F2fhxT
Manfroto Mini Tripod w/universal Cell mount:
http://amzn.to/2CPwpkm
Echo Dot (2nd Generation): Black – http://amzn.to/2F12OtY
Social Media
Twitter: https://twitter.com/SmokinGrillinAB
Instagram: https://www.i
Please follow and like us: