The Ultimate Guide to the Keto Egg Shake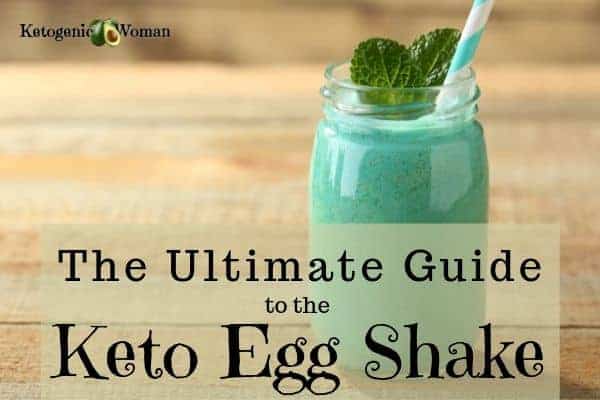 If you have never tried the Keto egg shake, you are in for a tasty surprise!
This egg shake is low carb, keto and if you are on the egg fast you can use it for that too! This is a favorite in the egg fast facebook group!
It's a perfect way to get in your eggs plus good quality fats. But frankly, you don't need to be doing the egg fast to love this shake!
It's a perfect quick morning keto breakfast shake on the go.
I am going to answer ALL your questions (because I know you have lots!) about the egg fast shake below. I am also going to give many tips and variations below so be sure to keep reading to get those questions you have answered!
(adsbygoogle = window.adsbygoogle || []).push();
What is in the Keto Egg Fast Shake?
The Basic Egg Shake is made up of the following:
2 eggs
2 tbsp fat
2 oz cream cheese (optional)
2 tbsp sugar-free syrup
1 cup Water and ice (or use cold coffee for a delicious variation)
Put all ingredients into a blender, blend and enjoy!
Ok, I can hear the screams of questions already so lets' get to it!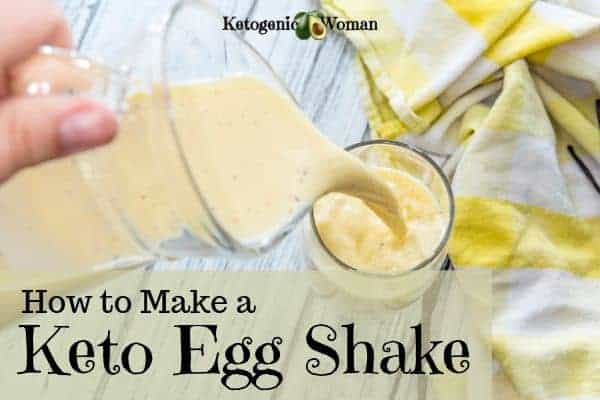 (adsbygoogle = window.adsbygoogle || []).push();
Won't I get sick from eating raw eggs?
Unlikely. According to this Healthline article, The US Department of Agriculture considers it generally safe to use raw eggs if they are pasteurized.
If your eggs are unpasteurized, you can wash them first before using.
If you have ever eaten homemade mayonnaise, egg nog, cake or cookie dough batter, ceasar salad dressing, hollandaise or homemade ice cream, then you have already eaten raw eggs.
What can I do if I just can't/won't eat raw eggs?
You can still make this shake using lightly scrambled eggs! Just scramble the eggs first, put them in the fridge and let them cool down. Then throw them into the blender with the other ingredients.
I know it sounds crazy but it is going to taste like flan!
Now if using scrambled eggs in a shake doesn't sound good to you, then maybe this is your solution. You can buy dried whole eggs! Yes! This is 100% whole egg dried into a powder perfect for shakes!
(adsbygoogle = window.adsbygoogle || []).push();
What fats can I use in the egg shake?
You can use any fats or a combination of fats that you like! The following will work:
MCT oil (**see note below)
Coconut oil (refined liquid oil blends up smoothly but I actually like the little bits that using solid coconut oil results in)
Softened butter or ghee
Mayonnaise (homemade or store bought)
**NOTE about using MCT oil. If you are new to Keto or even new to drinking egg shakes or egg coffees, please be aware that some people need to start slowly with using MCT oil (and even coconut oil to a lesser extent) because it can have a laxative effect. Start with 1 teaspoon and work up to a tablespoon.
In fact, some people have tummy issues drinking large amounts of any fat in a shake like this. I am one of them and I make my shake ½ strength.
That means that I take the basic egg fast shake recipe and I cut everything in half except for the water and ice. It won't be as thick and rich but to me, it's just as delicious!
(adsbygoogle = window.adsbygoogle || []).push();
How can I make the Egg Shake if I am dairy free?
To make the egg shake dairy free, you can simply leave out the cream cheese in the recipe. Many people who do this will use mayonnaise as their fat to make up for some of the creaminess you might miss from the cream cheese.
I know it sounds so darn weird but the flavorings/sugar-free syrups are going to cover up any hint of mayo taste there!
Can I use this shake on the Keto Egg Fast?
Absolutely!
As an admin in the Egg Fast Facebook group with over 45,000 members, I can tell you that the Vanilla Egg Fast Shake is a staple for many people!
In fact, some people like this so much that a frequently asked question is Can I just drink this egg fast shake all day long!?
The things that you need to know for using this shake on the egg fast are:
Use only egg fast approved fats in the shake (olive oil, avocado oil, coconut oil, butter, MCT)
Fats and eggs in the shake are counted towards your total for the day
Cream cheese is optional and is counted towards your cheese totals for the day
The egg fast allows for a total of only 3 servings of sweeteners per day. This means that you need to read the label of your sugar-free syrups or sweeteners. Most of the bottles that I have say 2 tbsp syrup is one serving. So I could have this shake 3 times in a day if I was drinking the full strength recipe.
On the Egg Fast one full serving of the shake recipe equals 2 eggs, 2 tbsp fat, 2-ounce cheese(if using), and 1 serving sweetener.
(adsbygoogle = window.adsbygoogle || []).push();
What can I use for sweetening and flavoring the Egg Shake?
This is the part where you can customize and make the shake a multitude of flavors! Any sugar-free sweeteners, syrups or flavor extracts are fine to use.
I personally use the Jordon's sugar-free syrups, they are my favorite and come in a gazillion flavors. You can order those here.
$rfsn_creative.generate('refersion_client/36535/creatives/dynamic/46527-9c5ef953cd467c82923ed3c6d99b4375.json',
aid: '2610059.7dab857'
);
Amazon also has a variety of sugar-free syrups available, you can check those out here. Be sure to read the labels!
If you do not have access to sugar-free syrups and cannot order online, don't despair! Many people just use flavor extracts like vanilla extract or banana extract.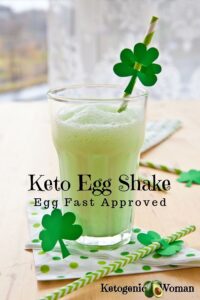 I made a great green shake for St. Patrick's Day using peppermint extract and a couple drops of green food color!
If you use flavor extracts then you will want to use something to make it sweet. I like the So Nourished monk fruit sweetener but you can also use stevia or any sweetener that works for you.
Do you have any other questions about the egg shake? Either using it for Keto or for the Egg Fast? If so, post your questions in the comments below and I WILL answer them!
More Egg Fast Recipes to Try
Here are some basic egg fast recipes for you to try out!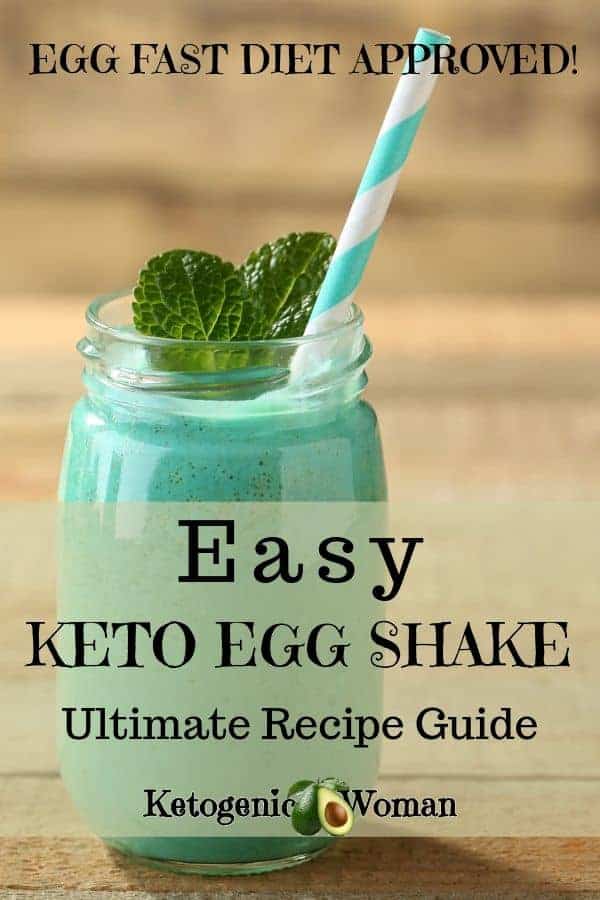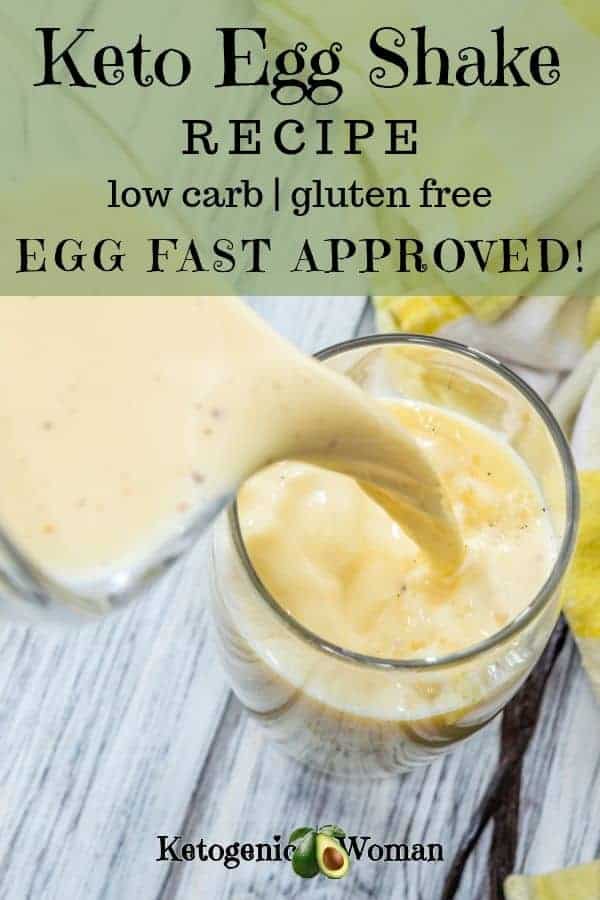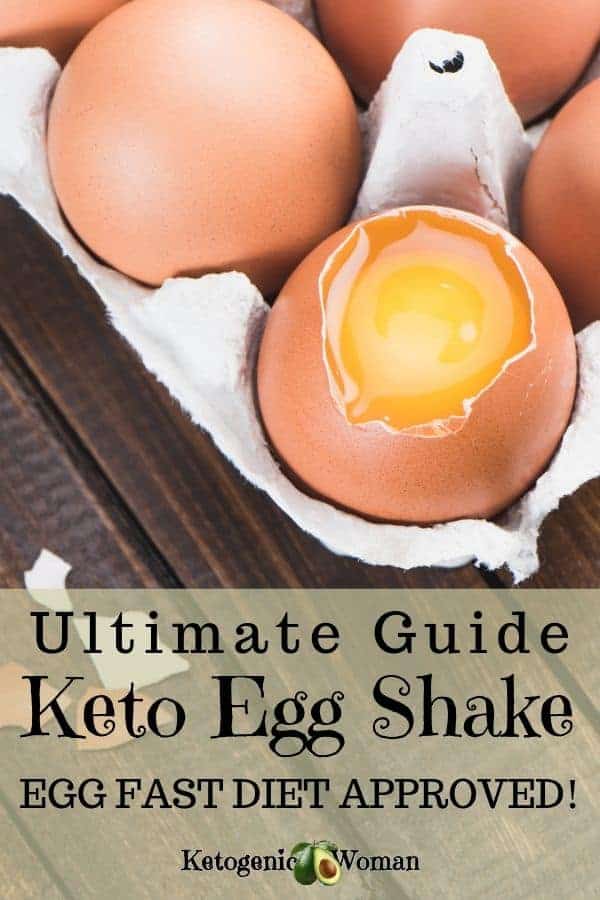 The post The Ultimate Guide to the Keto Egg Shake appeared first on Ketogenic Woman.
Please follow and like us: