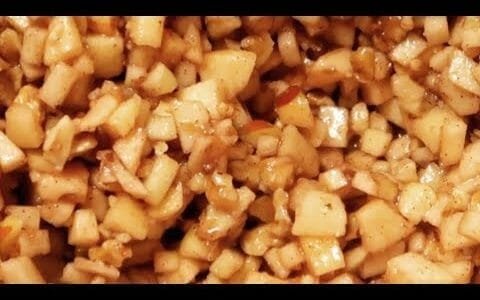 Recipe Here!: http://pressureluckcooking.com/recipe/charoset/
Not everything needs to be made in the Instant Pot and Charoset is proof of that.
 
What is Charoset, anyway? Well, other than pronouncing a word that makes it sound like you have a tickle in your throat, it's really nothing more than a wonderful, sweet blend of apples and walnuts mixed together with some honey, sweet spices and, of course, some WINE!
 
This is a signature side served at a Passover Seder table is the Charoset signifies the mortar the Jews used to build the pyramids for Pharaoh and to remind us of those rougher times…but in a delicious way, I guess. Regardless, it's silly how easy it is to make PLUS I show you the proper way to dice an apple in the video for precision every time!
Wüsthof Pairing Knife (to core the apple) – https://amzn.to/2GgplD4
Wüsthof Cook's Knife (to slice and dice the apple) – https://amzn.to/2DMWVvb
 
VISIT http://pressureluckcooking.com for MORE written recipes and easy-to-follow videos – with more always being added!
Want even more content? Please visit and "like" Pressure Luck on Facebook at http://facebook.com/pressureluckcooking
Which is the right Instant Pot for you? Check out my Essential Products page here: http://pressureluckcooking.com/essent…
If you want to see a video of the Instant Pot Duo Plus compared to the Instant Pot Duo, check this video out here!: https://youtu.be/HtHQGKgCETg
If you want to see a video of the Instant Pot Duo compared to the Instant Pot Ultra, check this video out here!: https://youtu.be/ULJl8HT-IE4
If you want to see how to get started using your brand new Instant Pot with no worries and covering all the bases, check this video out!: https://youtu.be/rjj08liF8aw
And buy at these links below for GREAT prices!:
IP Ultra Mini (3qt) – http://amzn.to/2FIJnU7
IP Ultra 60 (6qt) – http://amzn.to/2vzHT93
IP Ultra 80 (8q) – http://amzn.to/2GUe2Np
IP DUO Plus 30 (3qt) – http://amzn.to/2ozXWSG
IP DUO Plus 60 (6qt) –
Please follow and like us: