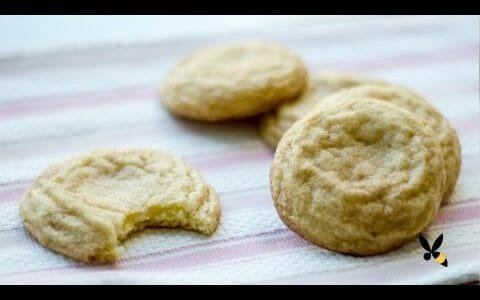 Bakery vs Homemade MATCHA MOCHI CAKE: https://youtu.be/MVm7Zvw_ziY FACEBOOK: http://www.facebook.com/myhoneysucklecatering
SUBSCRIBE: http://goo.gl/iA05G
Don't cut back on the sweet treats! These Snicker doodle cookies are buttery, chewy, and absolutely delicious. Although they take a backseat to Chocolate Chip and Oatmeal Raisin, or Peanut Butter cookies in terms of popularity, they certainly are not inferior in any way. Whenever I make them for dessert or for a party, they are gone sooner than a fingersnap! Great cookies to go with a tall glass of milk too!
For an amazing Oatmeal Raisin Cookie watch here: http://youtu.be/6beNtNVyriA
Recipe Adapted and modified from AllRecipes.com:
Ingredients:
1 1/3 cups of all purpose flour
1 egg
1 stick (or 1/2 cup or 113 grams) butter, at room temp.
1/2 tsp vanilla
3/4 cup sugar
1 tsp cream of tartar
1/2 tsp baking soda
1/8 tsp kosher salt
1/2 tbsp cinnamon
1/2 tbsp sugar (for the coating)
Directions:
Preheat over to 400º F.
Combine the butter, sugar, egg, and vanilla extract in a bowl and blend well. Then add your flour, cream of tarter, baking soda, and salt, and mix together into a dough. In a separate bowl, combine the 1/2 tbsp of sugar with the cinnamon together. With a scooper, form round balls from the dough and coat each in the cinnamon mixture.
Place dough balls onto a baking sheet lined with parchment paper, about 3 inches apart, and bake for 8-10 minutes until golden brown.
Let cool for 5 minutes and enjoy!
Thanks for watching! I create these videos for those looking to up their game in the kitchen and for those who are interested in cooking gourmet dishes in a few easy steps. My tutorials are perfect for college students and young family chefs. Please subscribe and a sincere thanks for all your support!
Music written, recorded, produced by Aaron Prim
© 2014 Honeysuckle Catering. All Rights Reserved.
http://youtu.be/qW9WTC4jh6Q Making things Fun, Pretty, and Delicious! Honeysuckle is a lifestyle chan
Please follow and like us: