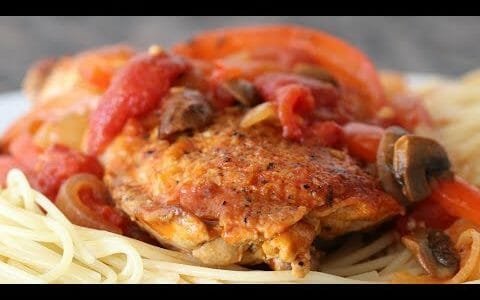 Chicken Cacciatore (also known as Hunter Style Chicken) is a delicious Italian American recipe that you can put together in your own home kitchen in about an hour! This is a delicious dish that is perfect for special occasions, but also quick and easy enough to serve on a weekend night as the dish uses simple ingredients and basic cooking techniques! Be sure to use either a heavy bottom stainless steel pan or a cast iron skillet, do not use non-stick! Join Eric from Simply Elegant Home Cooking to see just how easy it is to make Chicken Cacciatore!
One of the most important elements to this dish is to buy a really high quality (3-4 lb.) chicken! You can buy a whole chicken and cut it up yourself, or buy one pre-cut…but either way, be sure to buy chicken that is air chilled! You want air chilled chicken as it will not have excess liquid. This will help you get a good sear on the chicken and will product good browning and color. This is critical to developing deep layers of flavor in your chicken cacciatore!
While there are a number of different recipes and methods for this dish, Eric recommends this version which does not include a dredge in flour prior to searing the chicken. While the flour coating does help create a nice crust, it will also dull the flavors of the tomatoes and white wine. These flavors are cleaner and brighter in this version without the flour! Be sure to buy the highest quality D.O.P. certified San Marzano Tomatoes! And be sure for your dry white wine to buy an Italian wine, and be sure it is of high enough quality that you could actually drink and enjoy it!
Thanks for watching, and we hope you enjoy this recipe for Chicken Cacciatore! Be sure to like, comment, and subscribe!
Ingredients:
-3-4 pound air chilled chicken, cut into pieces
-28 oz can D.O.P. certified San Marzano Tomatoes
-1 Cup dry white Italian wine
-8 oz cremini mushrooms
-2 medium yellow onions
-2 medium red bell peppers
-4 cloves garlic
-2 sprigs rosemary
-4-5 sprigs thyme
–
Please follow and like us: