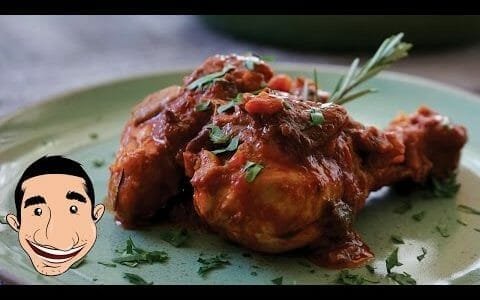 Chicken cacciatore has been reinvented with my 5-star take on the classic favourite. With a combination of bold tomato sauce and luscious porcini mushrooms, this chicken recipe is moist, flavourful, and finger-licking-fabulous.
This is one of my favorite chicken recipes ever.
This Cacciatore Chicken recipes is by far the best chicken casserole I have eaten in my life.
#chicken #chickencacciatore #chickenrecipe
SUBSCRIBE TO MY YOUTUBE CHANNEL (IT'S FREEEEEE 😉 http://bit.ly/SubscribeToMyYOUTUBEchannel
Share it with your FOODIE friends on FACEBOOK
Get the recipe on my #FoodBlog http://www.vincenzosplate.com/recipe-items/chicken-cacciatore/
Check out my website for full recipes and to follow my blog: http://vincenzosplate.com/
Kg to cups converter: http://www.convertunits.com/from/kilo+g/to/cup+[US]
———————————–
CHICKEN CACCIATORE | Homemade Cacciatore Recipe
INGREDIENTS:
Dried Porcini mushrooms (or fresh if you can get them)
1 x whole organic chicken cut into pieces (or less if you're not hungry, but you'll regret not making extra!)
1 glass of white wine
400gr of Italian Tomato Sauce
1 ½ cups of boiling water
2 x garlic cloves
2 x medium sized carrots (diced into small cubes)
2 x celery sticks (diced into small cubes)
Fresh rosemary sprigs
Freshly chopped parsley (to serve)
Extra Virgin Olive Oil (EVOO)
Salt & Pepper
Dried mixed herbs
METHOD:
1. If you are using dried Porcini mushrooms for your chicken cacciatore, put them into a medium size bowl and add 2 x glasses of boiling water. Put this to the side.
2. Put a medium size casserole dish or deep frying pan on the stove at medium heat. Add extra virgin olive oil and leave to warm up.
3. Add 2 x garlic cloves to the pan (leave them whole) and a few sprigs of rosemary.
4. Mix using a wooden spoon and leave to simmer for a minute or so.
5. Add the chicken pieces to the pan, one next to the other and leave to simmer for a few minutes. Once the chicken pieces have begun to bro
Please follow and like us: