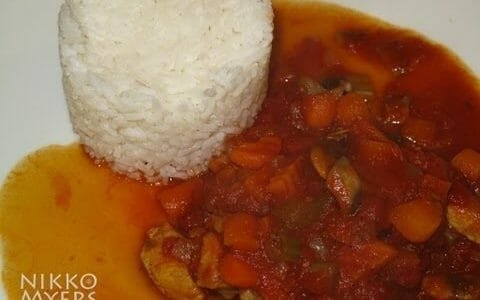 My twist on an old school recipe!
Chicken Cacciatore Recipe
1 LB Chicken breast
2T butter
2T olive oil
1 onion, finely chopped
2 cloves garlic, finely chopped
2 carrots, peeled and chopped
2 ribs celery, chopped
28oz can diced tomatoes with juices
2/3c white wine
8oz sliced mushrooms
In a Dutch oven over medium heat, heat butter and olive oil together until butter is melted. Add the chicken pieces and cook until nice and browned, about 5 minutes per side.
Add the onions and garlic, cooking until the onions are tender, another 3-5 minutes. Add the carrots and celery, followed by the tomatoes and wine. Bring to a simmer, lower heat and cover, simmering for 30 minutes. Remove the lid and stir in the mushrooms. Cover and simmer another 15 minutes.
Check for seasoning and add salt and pepper as needed. Stir in half the parsley. Serve over angel hair pasta with a sprinkle of the reserved parsley.
Please follow and like us: