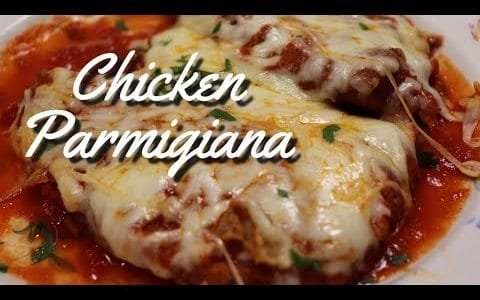 Chicken Parmigiana
2 lbs Chicken Cutlets – thin sliced
2 C Seasoned Bread Crumbs
3 Eggs
2 Tbsp Water
Favorite Jar Sauce
Parmesan Cheese
8 oz Mozzarella Cheese
Parsley for garnish
To make Fried Cutlets:
Put bread crumbs in bowl, in a separate bowl add eggs and water, mix. Dredge cutlets in bread crumbs, egg mixture and back into bread crumbs. Heat oil in pan,
fry cutlets until browned, flip and finish other side. Drain on paper towels.
Coat sauce in bottom of casserole dish, place chicken in dish and cover with more sauce, sprinkle on parmesan cheese and mozzerella cheese.
Bake @ 400° until cheese is melted.
Garnish with parsley.
Music: Selfie Stick By Quincas Moreira
Please follow and like us: