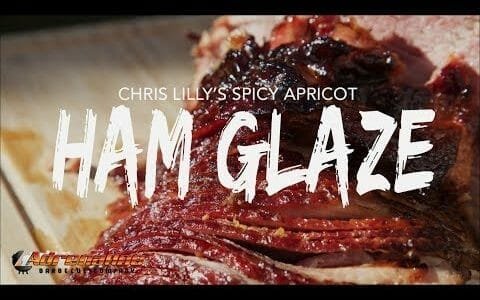 Chris Lilly's Spicy Apricot Glaze – Ham Glaze Recipe – Apricot Ham Glaze **PURCHASE THE SLOW 'N SEAR HERE: https://abcbarbecue.com/products
We found this recipe while perusing one of many awesome recipes at AmazingRibs.com. If you want to see the full write up go here: https://amazingribs.com/tested-recipes/barbecue-sauce-recipes/chris-lillys-spiced-apricot-sauce
See the full Apricot Glazed Ham Recipe we used by Amazingribs.com here: https://youtu.be/zbfszkXB1EM
INGREDIENTS NEEDED TO MAKE THIS SPICY APRICOT GLAZE:
1/2 cup apricot preserves
1/2 cup honey
2 tablespoons brown sugar
1 tablespoon Dijon-style mustard
1 1/2 teaspoons Worcestershire sauce
1/2 teaspoon soy sauce
1/2 teaspoon paprika
1/4 teaspoon black pepper
1/4 teaspoon cayenne pepper powder
1/4 teaspoon garlic powder
1/8 teaspoon cinnamon powder
1/8 teaspoon sage flakes
1/16 teaspoon ground cloves
HOW TO MAKE THE SPICY APRICOT GLAZE:
This glaze is real easy to make and goes really well on ham. To start we are going to take all of our wet ingredients and place them into a mixing bowl followed by your dry spices. Next whisk all your ingredients together for a minute or two or until you have a smooth glaze consistency.
Once your glaze is mixed together the only thing left to do is apply it to your ham, let is set and enjoy.
_________
Join our Facebook group! https://www.facebook.com/groups/1885522028370703/
PLEASE SUBSCRIBE! It really helps us grow!
Find more info on the Slow 'N Sear here: http://www.abcbarbecue.com/slow-n-sear
Like the thermometer we used? Find out more here:
https://abcbarbecue.com/product-category/thermometers/
Please follow and like us: