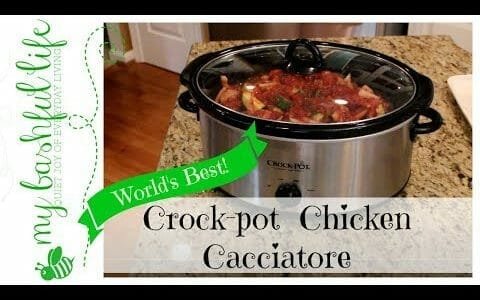 Today I share the World's Best Chicken Cacciatore recipe! How do I know that it's the world's best recipe? Because this is my Mom's chicken cacciatore recipe and she was the best cook around. Mom made hers on the stove top but we are going to make our in our crock-pot. The full recipe is below
*******************************************************************
Mom's Chicken Cacciatore
****************************
3lbs skinless boneless chicken breast
2 green peppers sliced
2 red peppers sliced
3 zucchinni sliced
1 med white onion sliced
3 garlic cloves crushed
s/p
garlic powder
Mrs. Dash
(for sauce)
28oz can tomato puree (or for a thinner sauce crushed tomato)
6oz can tomato paste
small jar of roasted red peppers
Tsp salt
Tbsp dried parsley
tsp basil
1/2 tsp oregano
tsp garlic powder
1/2 tsp crushed red pepper
1/2 cup white wine
Tbsp Sugar
Generously prep chicken breast with s/p garlic powder and Mrs. Dash and place in crock-pot. Add sliced veggies and crushed garlic to crock-pot and set aside to prepare sauce. Mix remaining ingredients in a large bowl and pour over veggies and chicken and mix. Cook on Hi 4 hours or on low for 6 hours. Best served over 1lb of cooked pasta sprinkled with romano cheese.
Kitchen Hint: This recipe can be prepped the night before and kept in the frig overnight and cooked the next day or put all the ingredients in a freezer ziplock bag and freeze for a great crock-pot freezer meal.
Thank you so much for watching and please leave me a comment below if you try this recipe! Don't forget to SUBSCRIBE!
MUSIC: Life of Riley Kevin MacLeod (incompetech.com)
Licensed under Creative Commons: By Attribution 3.0 License
http://creativecommons.org/licenses/b…
WHERE TO FIND ME:
BLOG: http://www.mybashfullife.com/
INSTAGRAM: https://www.instagram.com/mybashfulli…
PINTEREST: https://www.pinterest.com/bashfullife/
I ALWAYS WRITE BACK;
My Bashful Life
Mickey
P.O. Box 483
Leesburg, VA 20176
Please follow and like us: