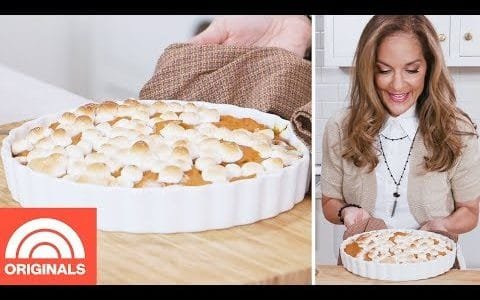 TODAY Nutritionist Joy Bauer packs a deliciously sweet (and nutritious!) punch in her easy sweet potato casserole recipe.
The secret ingredient? Baby carrots! They provide a gorgeous, bright orange color, pack in more vitamins and help lower both the calories and carbs in this traditionally decadent dish.
Your whole family will love this take on a Thanksgiving classic. Recipe: https://on.today.com/2zYNDfA
» Subscribe to TODAY: http://on.today.com/SubscribeToTODAY
» Watch the latest from TODAY: http://bit.ly/LatestTODAY
About: TODAY brings you the latest headlines and expert tips on money, health and parenting. We wake up every morning to give you and your family all you need to start your day.
If it matters to you, it matters to us. We are in the people business. Subscribe to our channel for exclusive TODAY archival footage & our original web series.
Connect with TODAY Online!
Visit TODAY's Website: http://on.today.com/ReadTODAY
Find TODAY on Facebook: http://on.today.com/LikeTODAY
Follow TODAY on Twitter: http://on.today.com/FollowTODAY
Follow TODAY on Google+: http://on.today.com/PlusTODAY
Follow TODAY on Instagram: http://on.today.com/InstaTODAY
Follow TODAY on Pinterest: http://on.today.com/PinTODAY
Joy Bauer's Easy & Healthy Sweet Potato Casserole with a Secret Ingredient | Joy Full Eats | TODAY
Please follow and like us: