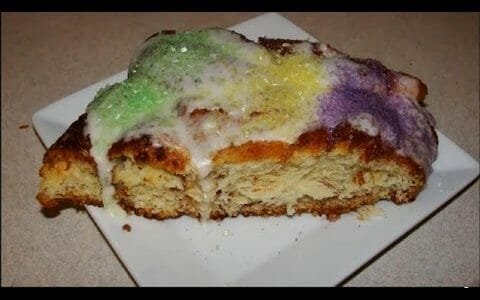 Subscribe & check out my other videos! www.youtube.com/cookingandcrafting
Subscribe & check out my other videos!
This is a delicious, light king cake that is so easy to make.
Please read below for the legend of the cake and the meaning of the baby, etc.
Mardi Gras is coming up, y'all! Make a King Cake. I have had me some King Cake when in Nawlins for carnival and I LOVE the one with the flavors, stuffed with cream cheese, smothered in chocolate…you name it! This one is very simple, meaning not simple in terms of making it but in terms of what it has to offer. Just filled with cinnamon & sugar. I had friends over and everyone loved it. Light and lucious. It was gone in 2 days.
1 c. whole milk at room temperature
Line a cookie sheet with parchment paper.
1/2 c. shortening
1 tsp. salt
1/3 c. sugar
Mix on low.
Add 2 eggs, one at a time, making sure it is mixed well before adding 2nd egg.
Into the milk add 2 packages of active yeast and let it sit for 5 minutes.
To this add 1/4 tsp of each of the following:
Vanilla extract
Orange extract
Lemon extract
Butter flavoring.
Add to the mixer and incorporate well.
Add 4 c. all purpose flour.
Mix well.
Turn out onto a floured surface and roll into a ball. Put it into a bowl and cover it with a towel. Put it in an area with no drafts for 1-1/2 hours.
Once it has risen, roll out into a 12 x 16 inch rectangle.
Brush it with canola oil and sprinkle with a 1/2 cup of cinnamon and sugar mixture.
Fold it in half, cut into 3 pieces to form a braid. Braid it. Move to parchment lined sheet and make it form a circle. Let it rise for another hour.
Add colored sugar. Bake 25-30 minutes in a 370 degree oven.
You can also make a powdered sugar glaze and add that after it has cooled and place the colored sugar sprinkles on top of that–looks nicer. You just adds more sugar content to the cake. I did a half and half so mother could enjoy with us.
The King Cake (and it's legend) came to New Orleans from France
Please follow and like us: