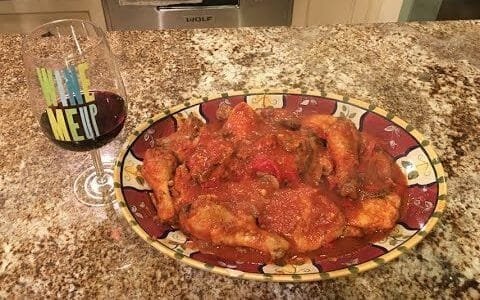 This is my family recipe for our delicious home made Chicken Cacciatore. Enjoy! – Hedy
Link to my cookbook "Mangia, It's Good For You!": http://hedysplace.com/index.php/cookbook/
Visit my blog: http://hedysplace.com/index.php/blog/
Recipe: Chicken Cacciatore
1 whole chicken cut up
1 medium size onion sliced
2 or 3 cloves of garlic minced
1 pepper cut up (I like red)
½ lb. of mushrooms sliced (not too thin)
1 28 oz. can of tomatoes
Fresh parsley (about a handful)
Fresh basil (6 leaves)
Olive oil
Salt and pepper to taste
½ glass of red wine (optional)
Start with about four tablespoons of oil in the pan. Salt and pepper the chicken pieces. Heat oil and brown the chicken pieces. You can remove the chicken skin if you prefer, but the skin gives the sauce an extra flavor. Remove browned chicken pieces from the pan. Add more oil if necessary.
In the same pan add onions and garlic. Saute until the onions become a little soft. Add the mushrooms and cook until they are softened. Add pepper slices and cook only for about a minute (they will soften when the sauce cooks).
Now you can add the can of tomatoes. At this point add the wine if you are using it and season with salt and pepper to taste. Add back in the chicken pieces and cook for about an hour. Serve with rice, pasta or just eat it alone with a salad.
‪Music Credit:
VOLARE Cover Performance By RichardBe Originally Recorded By Dean Martin.mp4‬‬. Channel – RichardBe Sings

https://www.youtube.com/user/STRUMMERBOY1975
Thanks for watching. Please comment, rate, subscribe.
Please follow and like us: