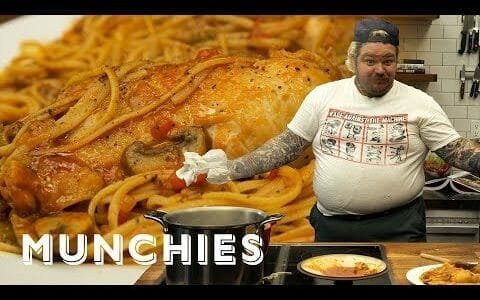 Matty Matheson has a brand new cookbook! He's in the MUNCHIES Test Kitchen showing us how to make his mother-in-law's chicken cacciatore recipe. Served over spaghetti, this stewed chicken is the ultimate comfort food and will change your life.
Pre-order Matty's cookbook now:
https://www.abramsbooks.com/mattymatheson/
Subscribe to Munchies here: http://bit.ly/Subscribe-to-MUNCHIES
Check out http://munchies.tv for more!
Follow Munchies here:
Facebook: http://facebook.com/munchies
Twitter: http://twitter.com/munchies
Tumblr: http://munchies.tumblr.com
Instagram: http://instagram.com/munchies
Pinterest: https://www.pinterest.com/munchies
Foursquare: https://foursquare.com/munchies
More videos from the VICE network: https://www.fb.com/vicevideo
Please follow and like us: