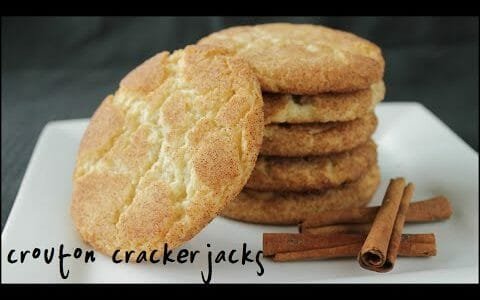 Learn how to make delicious snickerdoodle cookies! Snickerdoodles are known for being crunchy on the outside and slightly softer on the inside with a bit of tang to them complimented with a cinnamon sugar coating. If you've never had them before, give these a try! This recipe has been around for decades and once you make them, you'll know why so many love it!
What you'll need:
1/2 cup vegetable shortening
1/2 cup butter, softened
1 1/2 cups sugar
2 large eggs
2 3/4 cups all-purpose flour
2 tsp cream of tartar
1 tsp baking soda
1/4 tsp salt
2 Tbsp sugar
2 tsp cinnamon
Preheat oven to 375*F. In stand mixer or large bowl, combine shortening, butter, sugar and eggs. Beat on medium speed for 1-2 minutes or until light and fluffy. Scrape down the sides of the bowl with a spatula to make sure everything is getting incorporated. Add in flour, cream of tartar, baking soda and salt. Mix well so all ingredients are combined well and forms into a dough. Dough will be soft.
In a small bowl, combine the 2 tbsp sugar with cinnamon. Roll the dough into 1″ to 1-1/2″ balls. Roll each ball in the cinnamon sugar mixture to completely coat all sides. Place onto an ungreased cookie sheet and bake for 10-12 minutes or until very slightly browned around the edges. Remove from oven and let cool for 1-2 minutes on the cookie sheet before removing to a wire rack to cool completely. Makes 24 (4″) cookies. Enjoy!!
My Links:
Google+: https://plus.google.com/+croutoncrackerjacks
Facebook: https://www.facebook.com/pages/Crouton-Crackerjacks/549691821747028
Pinterest: https://www.pinterest.com/crackerjackj/
Twitter: https://twitter.com/crackerjack_j
Please follow and like us: