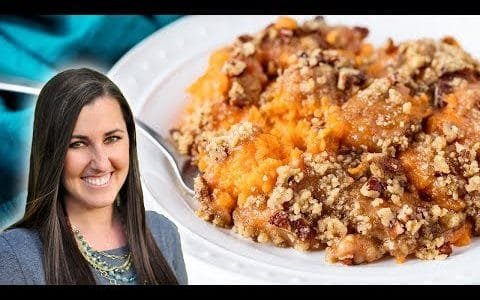 How to Make The Best Baked Sweet Potato Casserole | The Stay At Home Chef
More Thanksgiving Recipes: https://goo.gl/uBVyVf
__________­↓↓↓↓↓↓ CLICK FOR RECIPE ↓↓↓↓↓↓↓↓ ______________
This recipe for The Best Baked Sweet Potato Casserole has a velvety sweet potato base and is topped off with a pecan streusel topping. It'll put candied yams to shame!
What is the difference between Sweet Potatoes and Yams?
In America the terms "Sweet Potato" and "Yam" are used interchangeably and refer to that potato looking thing with the red skin and orange flesh. Yet, you have probably seen something else in the grocery store labeled sweet potato with a light yellow skin, while your orange flesh variety is labeled yams. Guess what? Both of them are sweet potatoes!
The kind of sweet potatoes you think of as yams are simply dark skinned sweet potatoes. You won't commonly come across true yams in an American grocery store. True yams have brown or black skin and the flesh is either red, purple, or off white. Crazy, huh? You thought you've been eating yams all these years!
How to Make The Best Baked Sweet Potato Casserole
INGREDIENTS
SWEET POTATO CASSEROLE:
4 large dark skinned sweet potato, peeled and cubed
1/2 cup white sugar
2 eggs, beaten
1/2 teaspoon salt
4 tablespoons butter, softened
1/2 cup milk
1/2 teaspoon vanilla extract
PECAN STREUSEL TOPPING:
1/2 cup packed brown sugar
1/3 cup all-purpose flour
3 tablespoons butter, softened
1/2 cup chopped pecans
INSTRUCTIONS
1. Preheat oven to 325 degrees.
2. Fill a large pot with water. Bring to a boil. Add cubed sweet potatoes. Return to a boil and reduce heat to low. Simmer sweet potatoes until tender (15-20 minutes). Drain.
3. Meanwhile, in a large bowl, mix together sugar, eggs, salt, butter, milk and vanilla. Add in cooked sweet potatoes and use a hand mixer to mix until smooth. Transfer to a 9×13 inch baking dish.
4. In medium bowl prepare the streusel topping. Mix the sugar and flour toget
Please follow and like us: