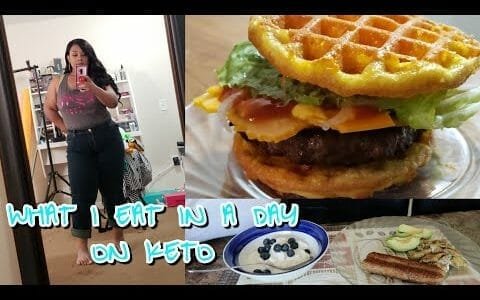 Hi luvs!!
Here are some details on my meals
•The breakfast sausage is from Aldi's it's called Never Any Chicken Breakfast sausage
•The yogurt is called two good vanilla yogurt, I got it from hyvee
• The Almonds are from Trader Joe's they are called Thai Lime and Chili almonds
• I purchased the Dash mini waffle maker from Amazon
☆I got the chaffle recipe from @keto.okie on Instagram
I typically only eat 1 meal a day and a snack, but for the sake of this video I will be showing you 2 meals and a snack.
My Instagram Keto page is ketobasie, check it out for recipes!!
What are macros? Macros are your daily caloric intake for the keto diet, broken into categories of optimal fats, carbohydrates, and proteins. They are also your literal map for keto success.
Where you can track your macros for free www.ruled.me
with this you will need to know your BMI which you can get in the monitor your weight app which is below in my favorite keto apps⬇️
Also some of my favorite keto apps I use are:
•carb manager app- it helps me track my food and calories each day.
•Monitor your weight app – it helps me keep track of my weightloss progress
•Life fasting tracker app- helps when I'm intermittent fasting
•Lazy keto app- keto recipes
•My fitness pal app
●Keto tips:
•Drink plenty of water
•Get your electrolytes in each day ( I get ultima electrolytes or key nutrients electrolyte powder in lemonade and pink Himalayan salt works to)
•Workout if you can but it's not required for weightloss
•Update your macros every 15lbs you lose
• If you slip up don't give up, just get back on your journey.
•Macros are key with keto
Also check out my vlog channel Basie'sLife:
https://www.youtube.com/c/BasiesLife7
Also check out my daughter's channel
https://www.youtube.com/channel/UCTFP1xw-cCrhYgY-HvbSbgA
Also check out Terrence's fitness channel: https://www.youtube.com/user/tfraz56
Want to send me stuff
PO BOX 16931
RAYTOWN, MO 64133-0631
Please follow and like us: