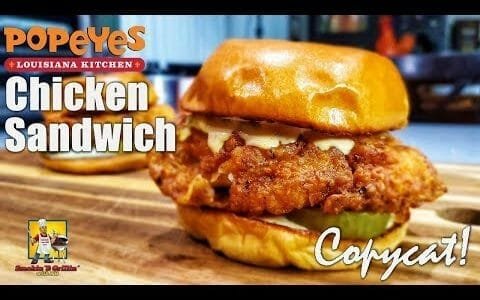 Popeyes Chicken Sandwich | Copycat Recipes – This is another Copycat video for the infamous, Popeyes Chicken Sandwich. This is to make and follow recipe will put you right in the middle of the controversy. This is a delicious and might be even better than the original. Let me know down in the comment section below what your thoughts are after making this. Enjoy!
Brine/Marinade Ingredients
2 cups Buttermilk
3 Eggs
1/4 cup Hot Sauce
1 tbsp Kosher Salt
Batter Ingredients
1 1/2 cups Flour
1/2 Cornstarch
1 tbsp Kosher Salt
1 tbsp Creole or Cajun Seasoning
1 tbsp Black Pepper
1 tbsp Paprika (I used smoked paprika)
1 tbsp Cayenne Pepper
Brioche Buns (Toasted)
1/4 cup Mayo
Sliced Pickles
Cook Chicken until the internal temp reaches 165* F at the thickest part.
SUBSCRIBE FOR MORE ►►
Click this link to become a member of Smokin and Grillin wit AB
https://www.youtube.com/channel/UC6tJ9C5SBvK6b-0cejoc4vg/join
PERKS for YOUTUBE MEMBERS
????5 Gets you Bi-Weekly written recipes, Acces to private live streams, Acces to the Exclusive Smokin and Grillin wit AB (TBD), Your name at the end of the video (credits).
Become a YouTube member and Thank you in advance!
If your like this video and would like to see more don't forget to like, share, and subscribe and hit the bell for a notification of the latest video.
My Amazon Store
https://www.amazon.com/shop/smokingrillinwitab
**** Video Gear and Links ****
My Gear
Camera 1: Panasonic GH5 – https://amzn.to/2SNlgsH
Camera 2: Nikon D7000 – https://amzn.to/2PJ3sgw
Camera 3: Samsung Note 8 – https://amzn.to/2QTuOVx
Favorite Prime Lens: PANASONIC LUMIX G X VARIO II PROFESSIONAL LENS 12-35MM – https://amzn.to/2PEZ0PH
Favorite Zoom Lens:
Favorite Cell Mic: http://amzn.to/2COwPaD
Production Tech
Desk Mic: http://amzn.to/2GRHbcn
Lighting Kit: http://amzn.to/2F2fhxT
Neewer 4x 160 LED Lighting Kit: http://amzn.to/2F2fhxT
Manfroto Mini Tripod w/universal Cell mount:
http://amzn.to/2CPwpkm
Echo Dot (2nd Generation): Blac
Please follow and like us: