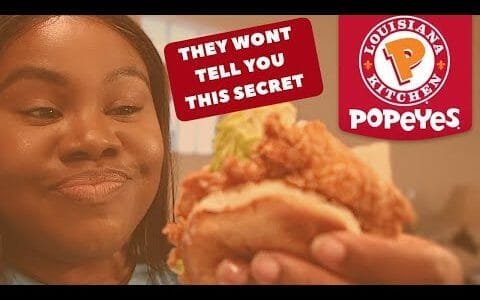 #POPEYES #SPICYCHICKENSANDWICH #FOODRECIPE
POPEYES SOLD OUT OF THEIR CHICKEN SANDWICH?
WATCH THIS VIDEO FOR THE SECRETS ON HOW TO GET THE NEW CHICKEN SANDWICH EVEN THOUGH THEY'RE SOLD OUT.
COMMENT BELOW if you've tried the new POPEYES Sandwich!
INGREDIENTS:
Serving Size (4)
4 Chicken Breast
4 Brioche or Hamburger Buns
Kosher Dill Pickles or Pickle Slices
Romaine Lettuce
2 tbspoon Garlic Powder
2 tbspoon Onion Powder
2 tbspoon Paprika
2 tbspoon Cayenne Pepper
2 tbspoon Creole Seasoning
2 tbspoon Louisiana Fish Fry Products Creole Seasoning
pinch of Pepper
pinch of Sea Salt
1 cup Cultured Fat Free Buttermilk
Flour Mixture:
1.5 cup Flour
1 tbspoon Garlic Powder
1 tbspoon Onion Powder
1 tbspoon Paprika
.5 cup Cornstarch
1 tbspoon Cayenne Pepper
2 tbspoon Creole Seasoning
Egg Mixture:
3 Large Eggs
1 tbspoon Texas Pete Hot Sauce (or Hot Sauce of your choice)
1 cup Buttermilk
Spicy Mayonnaise
Mayonnaise
Sprinkle of Cayenne Pepper
Preparation Details: *Follow Video Instructions*
Leave chicken in fryer on 300 degrees for 12 minutes (or until internal and external temperatures are edible).
All footage is that of my own.
LET'S DO BUSINESS (Email Me): everydaykashay@gmail.com
KEEP UP WITH KASHAY:
• Instagram: https://www.instagram.com/everydaykashay/
• Twitter: https://twitter.com/everydayKaShay
PRODUCTS USED TO FILM THIS VIDEO:
The Camera: https://amzn.to/2WwIS6E
The Lens: https://amzn.to/2l4Pz2j
Microphone: https://amzn.to/2WGtsgr
Lighting: https://amzn.to/2jEZ9IO
Color Lighting Kit: https://amzn.to/2l6jeZ8
Lighting Alternative (Price Efficient): https://amzn.to/2l7uCnz
Microphone (Cost Efficient): https://amzn.to/2xIpMQv
Diffuser: https://amzn.to/2FFc8kO
Quick Release Plate: https://amzn.to/2KtxumG
Manfrotto 128LP Micro Fluid Head: https://amzn.to/2r6QVsO
Monopod: https://amzn.to/2HI9NcY
Please follow and like us: