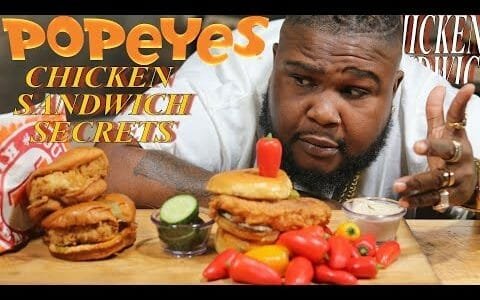 CHEF RAY / MR. MONEY HAS UNLOCKED THE SECRETS TO THE FAMOUS POPEYES CHICKEN SANDWICH RECIPE. CREATING ONE OF HIS OWN AND IT IS WAAAYYY BETTER!!! CHECK OUT THE VIDEO AND LET US KNOW WHAT YOU THINK ABOUT THIS RECIPE IN THE COMMENTS BELOW. MAKE SURE YOU LIKE, SUBSCRIBE, AND RING THE BELL SO YOU KNOW THE NEXT TIME WE'RE JAMMING AND COOKING ON THE NEXT EPISODE OF JAM PACKED COOKING: LET'S EAT & LET'S TALK!!! ALWAYS PEACE AND LOVE!!!
THE MUSIC IS ALL ORIGINAL MUSIC BY D'INFERNO, IF YOU LIKE WHAT YOU HEAR CLICK THE LINK BELOW TO CHECK OUT SOME VIDEOS AND LISTEN TO SOME GREAT TUNES!! https://www.youtube.com/user/TheRbglife
FIND US
https://www.instagram.com/JAMPACKEDCOOKING/
https://www.facebook.com/bigsmokeys/
Tweets by JPCBLOG
BUY YOUR "MAGIC DUST" HERE!
https://www.bigsmokeysbbq.com/online-store/MAGIC-DUST-p147081784
MAGIC DUST IS A UNIQUE ALL PURPOSE BBQ RUB WITH A BLEND OF HERBS AND SPICES CREATED OVER 10 YEARS OF COOKING & SMOKING MEATS ALL TYPES OF WAYS BY BIG SMOKEYS OWNER & FOUNDER CHEF RAY…..
Please follow and like us: