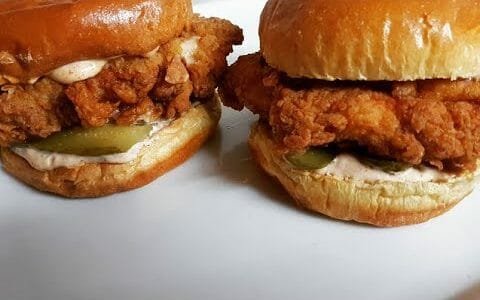 popeyes chicken sandwich
Ingredients:
2 pieces of chicken thighs or chicken breast
1 cup of flour
2tbsp cornflour
1/2 tbsp black pepper
1/2 tbsp cayenne pepper
1/2 tbsp garlic powder
1/2 tbsp salt
1tbsp paprika
2 eggs
1/2 cup of milk
Pickles/gherkins
1) Begin by mixing all the dry ingredients.
2) Combine eggs and milk and mix well.
3) marinate the chicken with a bit of salt, black pepper, and paprika.
4) now, dip the chicken in the egg mixture, then in the flour.
( try not to drain too much of the egg mixture before putting in the flour)
5) Coat it very well in the flour to coat a nice coating.
6) Deep fry in hot oil, cook for 3-4 minutes on each side, until golden brown.
7) while the chicken is cooking, make the mayonnaise sauce.
Sauce Ingredients:
3tbsp of mayonnaise, add some black pepper, hot sauce ( ideally Tabasco)
and some paprika.
Once all done, grill one side of brioche buns ( the inside part)
add a generous amount of mayo on both sides, layer some sliced pickle/gherkins, then the chicken, and finish with the bun top. Enjoy
Please follow and like us: