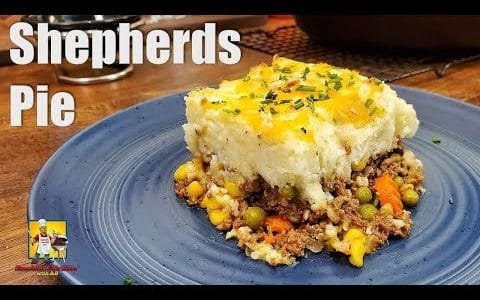 Shepherd's Pie Recipe | Dinner Ideas – Here's another easy dinner option, Shepherd's Pie. No longer do you have to go out and buy this delicious comfort food. You can make it at home in no time.
Enjoy!
Shepherd's Pie is traditionally made with Ground Lamb and typically has a Gravy in the Meat.
Ingredients
3 lbs. Potatoes
2 – 3 lbs. Lamb or Ground Beef (90/10)
1 Large Onion, chopped
1 cup Frozen Peas
1 cup Frozen Corn
1 cup Frozen Carrots
2 tbsp Extra Virgin Olive Oil
4 Garlic Cloves, minced or shredded
2 tbsp Tomato Paste
2 tbsp Worcestershire Sauce (W- Sauce)
4 Egg Yolks
1 cup Chicken Stock
1 cup Sour Cream
1 cup Grated Parmesan Cheese
1/4 cup Butter
1 tbsp Thyme
1 tbsp Rosemary
Salt and Pepper to taste
Can bake in a 13″ x 9″ Baking Dish
Bake in oven @ 425 Degrees F (220 Celsius) for 30 mins.
SUBSCRIBE FOR MORE ►►
Click this link to become a member of Smokin and Grillin wit AB
https://www.youtube.com/channel/UC6tJ9C5SBvK6b-0cejoc4vg/join
PERKS for YOUTUBE MEMBERS
????5 Gets you Bi-Weekly written recipes, Acces to private live streams, Acces to the Exclusive Smokin and Grillin wit AB (TBD), Your name at the end of the video (credits).
Become a YouTube member and Thank you in advance!
If your like this video and would like to see more don't forget to like, share, and subscribe and hit the bell for a notification of the latest video.
My Amazon Store
https://www.amazon.com/shop/smokingrillinwitab
**** Video Gear and Links ****
My Gear
Camera 1: Panasonic GH5 – https://amzn.to/2SNlgsH
Camera 2: Nikon D7000 – https://amzn.to/2PJ3sgw
Camera 3: Samsung Note 8 – https://amzn.to/2QTuOVx
Favorite Prime Lens: PANASONIC LUMIX G X VARIO II PROFESSIONAL LENS 12-35MM – https://amzn.to/2PEZ0PH
Favorite Zoom Lens:
Favorite Cell Mic: http://amzn.to/2COwPaD
Production Tech
Desk Mic: http://amzn.to/2GRHbcn
Lighting Kit: http://amzn.to/2F2fhxT
Neewer 4x 160 LED Lighting Kit: http://amzn.to/2F2fhxT
Manfroto Mini Tripod w/universal Cell mount:
http://amzn.t
Please follow and like us: