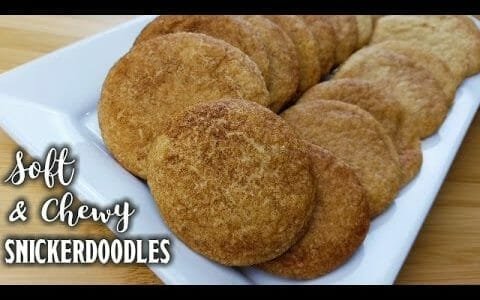 Snickerdoodle Recipe | How to Make Homemade Snickerdoodles
Snickerdoodles are one of America's favorite cookies, and most definitely one of mine! Snickerdoodles are not to be confused with a normal sugar cookie. Snickerdoodles have a specific tang that only comes from cream of tartar. Did you know cream of tartar comes from the leftover sediment in wine barrels after fermentation? I didn't. Thanks google. These cookies are soft and stinking amazing! Give them a try and you will be hooked forever!
Thank you so much for watching!
————————————————-
Subscribe for FREE: https://goo.gl/hSmR9f
————————————————-
STAY CONNECTED WITH ME:
• INSTAGRAM: http://www.instagram.com/mrsbudzyn
• FACEBOOOK: https://goo.gl/mFHQhO
• SNAPCHAT: CBUDZYN5
• GOOGLE+: https://goo.gl/h1bWyR
————————————————-
| Ingredients |
1 Cup Butter, Softened at Room Temperature
¾ Cup Granulated Sugar
¾ Cup Brown Sugar
2 Large Eggs
2 Teaspoons Vanilla Extract
2 ¾ Cup All Purpose Flour
2 Teaspoons Cream of Tartar
1 Teaspoon Baking Soda
½ Teaspoon of Salt (Only if you are using unsalted butter)
Topping:
4 Tablespoons Granulated Sugar
2 Tablespoons Ground Cinnamon
| Directions |
In a medium bowl, cream together butter and both sugars until light and fluffy.
Add eggs one at a time along with the vanilla, mixing until fully incorporated. Set aside.
In another medium bowl, whisk together flour, cream of tartar, baking soda and salt.
Fold the flour mixture into the wet ingredients in 3 separate increments until fully incorporated.
Cover dough with plastic wrap or tin foil and chill in the refrigerator for 30-45 minutes. The longer the better.
Preheat oven to 350 degrees.
Once dough is chilled, form into 1 inch balls rolling it between your palms. Place on a cookie sheet covered with parchment paper and slightly press down.
For the topping, mix the sugar with the cinnamon and pour in
Please follow and like us: