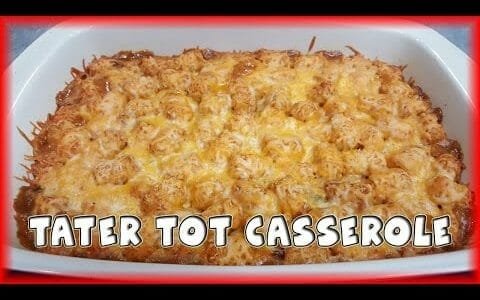 Printable Recipe: http://CookinAmigo.com/tater-tot-casserole
Ingredients:
1 lb. Ground Beef
1 Onion (chopped)
2 cloves Minced Garlic
2 10.75 oz. cans of Cheddar Cheese Condensed Soup
2 tsp. Chili Powder
1 tsp. Thyme
1/2 tsp. Salt
1/2 tsp. Pepper
1/2 cup Picante Sauce
1 lb. Frozen Tater Tots
1 cup Shredded Taco Seasoned Cheese
Instructions:
Preheat oven to 350º F.
Brown beef along with onions and garlic over the stovetop. Drain.
Add soup, picante sauce, and seasonings and simmer for 3 minutes.
Add mixture to bottom of 13 x 9 inch baking dish.
Top with tater tots.
Bake for 45 minutes.
Top with cheese and bake for an additional 10 minutes.
Website: http://CookinAmigo.com
Facebook: http://facebook.com/CookinAmigo
Twitter: http://twitter.com/CookinAmigo
Pinterest: http://pinterest.com/CookinAmigo/
Google+: http://google.com/+CookinAmigo
Please follow and like us: