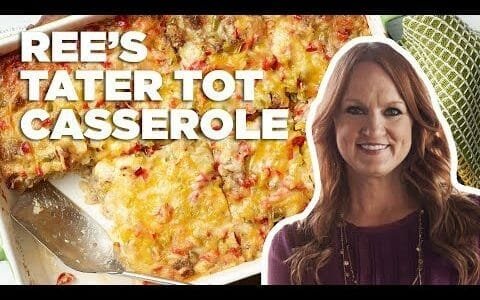 Serving up brunch for a crowd? This recipe's for you.
Have you downloaded the new Food Network Kitchen app yet? With up to 25 interactive LIVE classes every week and over 80,000 recipes from your favorite chefs, it's a kitchen game-changer. Download it today: http://food-network.app.link/download!
Subscribe to Food Network: https://foodtv.com/2WXIIWZ
Get the recipe: https://www.foodnetwork.com/recipes/ree-drummond/tater-tot-breakfast-casserole-4607655
Tater Tot Breakfast Casserole
RECIPE COURTESY OF REE DRUMMOND
Level: Easy
Total: 9 hr 25 min (includes soaking time)
Active: 25 min
Yield: 8 servings
Ingredients
One 16-ounce bag frozen Tater Tots
Butter, for the baking dish
1 tablespoon olive oil
1 pound spicy bulk breakfast sausage
1 medium onion, very finely diced
1 cup milk
1/2 cup half and half
1/4 teaspoon seasoned salt
1/4 teaspoon cayenne
4 large eggs
1 red bell pepper, very finely diced
1 green bell pepper, very finely diced
2 cups grated Cheddar cheese
1 cup grated pepper jack cheese
Kosher salt and freshly ground black pepper
Directions
Line up the tater tots in a buttered 9-by-13-inch baking dish.
Add the olive oil to a large skillet over medium heat. Add the sausage and onion and cook, breaking the sausage up with a wooden spoon, until browned and cooked through, 8 to 10 minutes. Set aside to cool slightly, then sprinkle it over the tater tots.
In a large bowl, mix the milk, half-and-half, seasoned salt, cayenne, eggs, bell peppers, half of both cheeses and some salt and pepper. Pour over the tots and sausage mixture, then top with the rest of the cheese. Cover with foil and refrigerate overnight.
Preheat the oven to 350 degrees F.
Bake, covered, for about 25 minutes. Remove the foil and continue to bake until the cheese is brown and bubbly and the casserole is cooked through, another 20 to 35 minutes. Cut into squares and serve.
Subscribe to our channel to fill up on the latest must-eat recipes, brilliant kitchen hacks and content from
Please follow and like us: